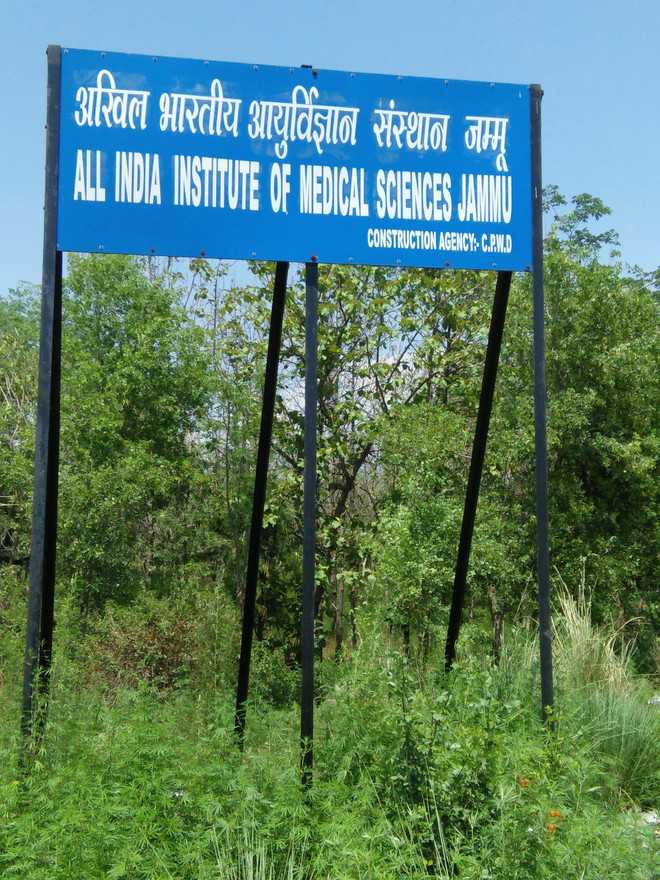 Amit Khajuria
Tribune News Service
Jammu, April 9
Government agencies have started working on the establishment of the All India Institute of Medical Sciences (AIIMS) at Vijaypur, Jammu, but have not been able to shift the nomad population which is residing on the land.
Even after about three years of the announcement of the project, the state government has failed to start construction work on the building of the institute.
The district administration of Samba, under which AIIMS has to be constructed at Vijaypur, claims that work is being done at a fast pace and soon, the construction will be started. But the factual position on the ground is different from the claims of the administration.
The state government had identified 208 families of nomads living on the AIIMS site for which they had identified another piece of land at Tarapur village near the identified AIIMS campus but the nomad population claims that the actual figure of the families is 280 and the record with the administration is incorrect.
"There are 280 families residing here but the government has registered only 204. Where will the rest of the families go? We have decided not to leave this place unless the government accommodates all the families and gives proper compensation to each and every family," said Muskeen Ali, a member of a nomad family residing at the AIIMS site in Vijaypur.
Some construction equipment is lying near the site but the work is being done at a very slow pace. The district administration claims that the Central Public Works Department (CPWD) is working efficiently.
"The CPWD is working on the project. The officials are conducting a survey and making layouts. I hope the work gets started within three-four months. Soil testing has been done, two tube wells have been constructed and one is under construction. The process of electrification has also been started," said Rajinder Singh, Deputy Commissioner, Samba.
"The process of land acquisition has been completed and soon, the nomads will be shifted to an alternate land identified for them," he added.
Top News
Sidesteps Indian concern over first arms package to Pakistan...
East Delhi District Magistrate Anil Banka says an evacuation...