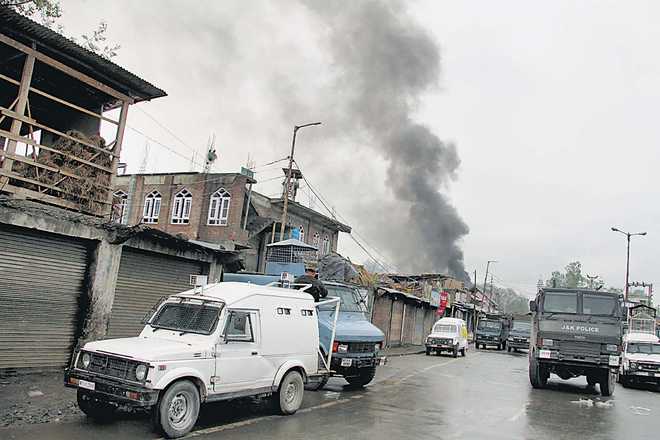 Suhail A Shah
Anantnag, April 11
After a 16-hour gunfight, in which four civilians and a soldier were killed and two houses were reduced to rubble, at least three militants were brought out alive by locals and paraded through the streets in Khodweni area of south Kashmir's Kulgam district on Wednesday.
"The encounter is over and I am told the militants have been brought out alive by the people," Director General of Police SP Vaid said.
Vaid said four civilians were killed in the crossfire during the encounter: Sarjeel Ahmad of Khodweni, Aijaz Ahmad Palla of Bijbehara, Bilal Ahmad Dar of Hawoora near Khodweni and Faisal Ilahi of Shopian. At least 67 persons, two of them Army men, were injured. The slain Army man was identified as Sepoy Sada Gunaka Rao from Andhra Pradesh.
The gunfight erupted late on Monday night in Wani Mohalla area, which was cordoned off following inputs on the presence of militants.
"As the area was being cordoned off, the militants fired in a bid to escape. The forces retaliated, confining the militants to a cluster of houses," a senior police official said.
He said the fire was halted soon after the initial burst and resumed in the wee hours of the morning. "Three Army men were injured and one of them later succumbed to his injuries," the official said. The gunfight continued till late afternoon after which the guns fell silent even as security forces employed choppers to survey the site.
"Bulldozers were brought in to rummage through the rubble to try and locate the bodies of the militants," the police official said, adding that the operation was called off as no bodies were found.
However, soon after the security forces withdrew, people marched to the encounter site and brought out three militants alive.
The militants, sources said, were paraded through the area in a celebratory fashion as two of them rode a bike and another one, injured, was carried on shoulders. "The militants clicked selfies and then fled," sources said.
In the morning, hundreds of people had marched towards the encounter site. "The forces used bullets, pellets and tear smoke shells to disperse the protesters," sources said.
---
Soldier killed as Pak targets Poonch posts
Jammu, April 11
A soldier was killed in a ceasefire violation by Pakistan on Wednesday in the Krishna Ghati sector along the Line of Control (LoC) in Poonch district. The Pakistan army initiated unprovoked and indiscriminate firing of small arms and mortars at 4:45 pm on forward posts to which the Indian Army retaliated strongly and effectively.
Naik Thorat Kiran Popatrao (31) was grievously injured and succumbed. Naik Popatrao belonged to Fakirabad Wadi village of Aurangabad, Maharashtra, and is survived by his wife Shrimati Aarti. — TNS
Top Stories