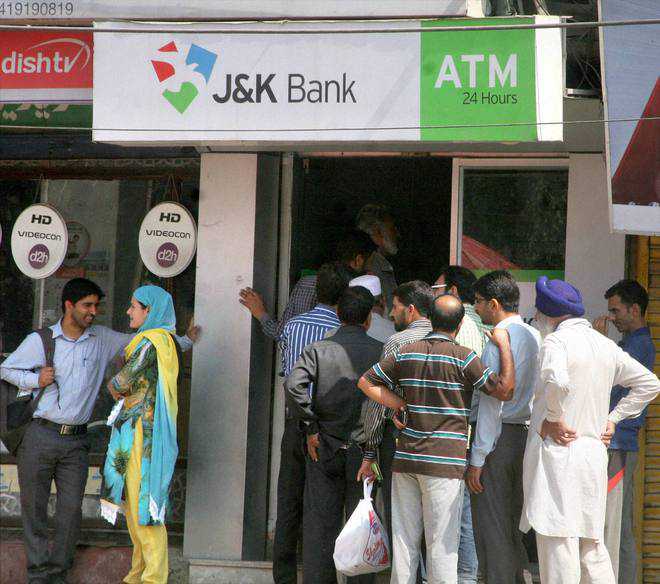 Majid Jahangir
Tribune News Service
Srinagar, October 19
Second former chairman of J&K Bank is under the scanner of Anti-Corruption Bureau (ACB), which is investigating a Rs 1,100-crore loan scam in the bank.
The anti-corruption watchdog carried out multiple raids in the Valley, including the house of former J&K Bank Chairman Mushtaq Ahmed Sheikh on Saturday while probing the large-scale corruption in the bank over the years. The raids were conducted at nine locations in Kashmir, three in Jammu and three in Delhi. Allegations have surfaced about huge irregularities in laundering, tendering and appointment processes in J&K Bank, which is being probed by the ACB, which has registered many cases against the bank.
In June this year, after corruption charges surfaced the Governor administration removed Parvaiz Ahmed from the post of Chairman-cum-Managing Director of J&K Bank and appointed RK Chibber as interim Chairman and Managing Director of the bank.
Ahmed's predecessor Sheikh had retired as bank chairman in 2016.
"The raids at various places in the Valley were carried out as part of the ongoing investigations into the corruption in the bank," an official said. "During searches documents and discriminatory material were seized by sleuths of the ACB."
The sleuths of ACB carried out raids on Sheikh's Barzulla residence. It is learnt that residences of four bank officials were also searched in Srinagar and south Kashmir's Pulwama district.
Director, ACB, Anand Jain confirmed multiple raids on Saturday.
Last week, the ACB had briefed the J&K Governor about the work in tackling corruption in J&K Bank where huge irregularities have been found.
The ACB is being assisted by the CBI, Enforcement Directorate and Delhi Police in the probe in the bank scam.