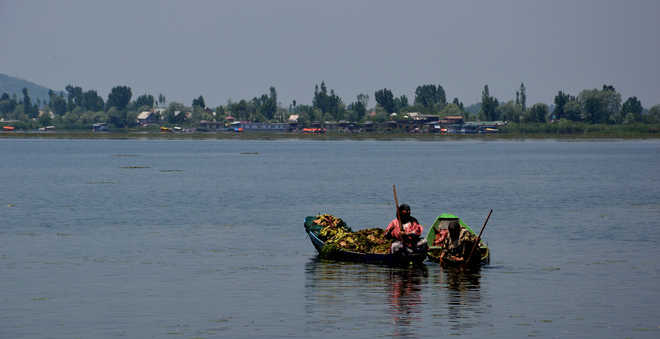 Ishfaq Tantry
Tribune News Service
Srinagar, May 22
Rejecting the maps of Dal Lake, which were presented to it by an official of the Lakes and Waterways Development Authority (LAWDA), the High Court today told the lake authority that it should not hoodwink the public and admit shrinkage of the lake area due to encroachments and pollutants.
These observations were made by a division bench of Chief Justice Badar Durrez Ahmed and Justice Ali Mohammad Magrey, which is hearing a PIL about the lake conservation.
The court asked LAWDA to present freshly prepared maps depicting "water surface and land area of the lake" on the next hearing as it felt that the maps dating back to 1911-1924 did not portray the present position and status of the lake.
On April 15, the court had directed the authorities to conduct an aerial survey to prepare map and photograph Dal Lake to know about the shrinkage of its area.
As the matter came up before the bench, LAWDA officials presented maps of the lake dating back to 1911-1924. However, the court was not satisfied. After minutely observing the maps and rejecting these, the court said these did not reflect the lake accurately as only outer (peripheral) boundaries were indicated in it whereas the inner areas were not shown.
"You are giving wrong information. You were asked to go to the spot and provide ground reality. It is totally wrong. Why do you people hide the truth," the Chief Justice observed after having a look at the maps. "Srinagar exists because of this lake. If it (lake) is not there, there won't be Srinagar. Do not hoodwink the people. Admit that the lake has shrunk due to encroachments and pollutants," he further observed.
During the proceedings, the LAWDA counsel submitted there was some proprietary land inside the lake, which was rejected by the court. The bench observed that the entire area of the lake was water in 1911 and had been turned into land mass. "How can you own water," it observed while directing LAWDA to furnish accurate details of the area by depicting "water surface and land area of the lake" in the map on the next hearing.
Water spread
In February 2016, LAWDA had informed the High Court that Walter Lawrence, the first settlement commissioner of Kashmir, had noted the area of Dal Lake as 25.7 sq km in his book 'Vale of Kashmir.' In the latest survey using remote sensing technology, the total area of the lake has been recorded as 25.5 sq km, besides the water expanse has been recorded as 20 sq km.
Top News
The nasal vaccine—BBV154 -- had received DCGI approval in No...
Egypt's President Abdel Fattah al-Sisi is the chief guest at...
Announcement was made by Adviser to the UT Administrator Dha...
It reflects the 'myopic' mindset of those in power at the Ce...
In the last year, more than 70,000 people globally have been...