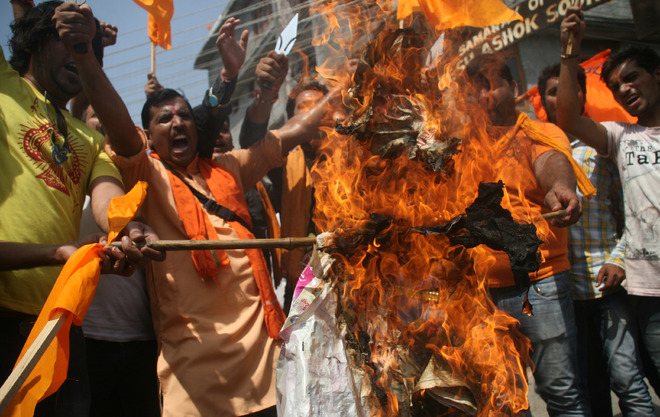 Azhar Qadri
Tribune News Service
Srinagar, September 22
The ruling coalition in Jammu and Kashmir is divided over the implementation of beef ban as the BJP is speaking in its favour while the Peoples Democratic Party (PDP) said Islam allowed eating of beef.
The fresh divide between the coalition partners has come at a time when the Jammu and Kashmir High Court direction asking for implementation of the monarchical era law, banning sale of beef and cow slaughter, has triggered widespread protests in the Valley.
Minister for Sports Imran Raza Ansari, who is a member of the PDP, on Monday said beef was allowed in Islam. "I was the first person to say in my individual capacity as a cleric that there is no question of ban on beef. It is allowed in our religion and we will continue to eat it," Ansari told reporters in the city here.
The PDP minister's defiance of the beef ban is in contrast to the BJP's position.
Deputy Chief Minister Nirmal Singh, who is a senior BJP leader, had earlier told reporters in Kathua district that the coalition government was "committed to implementing the order of the Jammu and Kashmir High Court against beef sellers and cow slaughterers".
Nirmal Singh had accused the separatists groups and mainstream opposition parties of attempting to "communalise" the issue and vowed that the law would be implemented "in letter and in spirit".
The High Court earlier this month issued directions to the administration, asking it to implement the century-old law which bans slaughter of bovines and sale of beef in the region.
The court direction has given a fresh cause to separatists and united religious groups in the Kashmir valley, which vowed to defy the ban. The separatists and religious groups have announced that they would slaughter bovines on Eid-ul-Zuha, which will be celebrated on Friday.
Top News
Were returning from Amarnath yatra duty
Portfolios allocated: While Nitish keeps home, Tejashwi gets...
Jammu and Kashmir Lt Governor Manoj Sinha has condemned the ...
A prime minister for six years between 1998-2004, Vajpayee d...