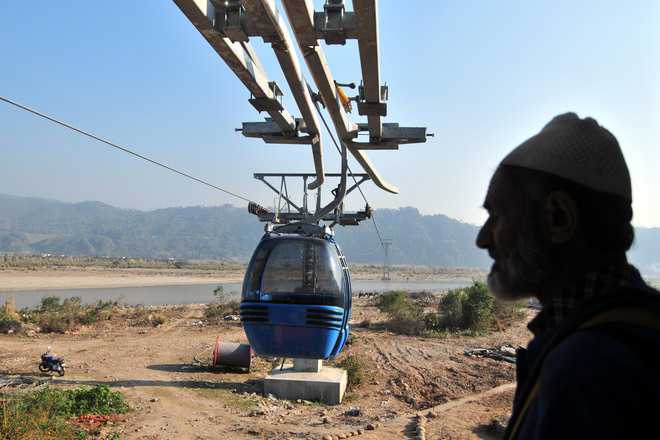 Amit Khajuria
Tribune News Service
Jammu, October 18
Despite its completion about a year ago, Jammu is waiting for the prestigious cable car project as the safety committee is yet to submit its report.
JK Cable Car Corporation (JKCCC), which is the executing agency of the project, had completed its technical work in October last year and the civil work by April this year, but it is waiting for safety clearance from the safety committee constituted by the J&K Government.
The committee, consisting of Chief Engineer (Mechanical), Chief Engineer (Electrical) and Superintending Engineer (Civil), was constituted in January this year, which has to give safety clearance to the project.
According to the sources, the executing agency had rectified the issues in June this year, which were pointed by the committee. But the clearance is still pending by the committee.
"The committee had made 10 visits before June and four visits were made after the issues were rectified by the agency. The committee is satisfied with the work done and there is no work pending in the project, but the clearance report is still pending with the Superintending Engineer, Civil," the source said.
The JKCCC had conducted the trial run of the first phase on April last year from Bahu Fort to Mahamaya. Later, many trials were conducted on both phases.
It may be recalled that a rescue trolley fell during the mock drill near the Mahamaya temple on January 20 in which one labourer was killed on the spot, while five sustained injuries.
Aiming another tourist attraction in Jammu city, the Rs 75-crore project will have two phases from Bahu Fort to Mahamaya, with eight cabins in the first phase and from Mahamaya to Peerkho with 14 cabins in the second phase. The JKCCC has spent Rs 50 crore so far on the project.
The project will be the fourth cable car project in the state, the first one of the state was commissioned in 1988 in Gulmar, Kashmir.
Planned in 1995, the project worth Rs 75-cr was to be operated from Bahu Fort to Mubarak Mandi Complex, but when Mubarak Mandi and Bahu Fort were declared protected monuments, the project was modified and relocated.
To give the best to tourists in Jammu, the JKCCCL has procured the critical components of cable cars from Turkey, Switzerland, Austria and Germany.
The first phase of the 1.57-km-long cable car project is 447-m-long and the second one from Mahamaya to Peerkho over the Tawi with the total length of 1,118 m.
The cable car project is aimed at connecting heritage sites across the city.