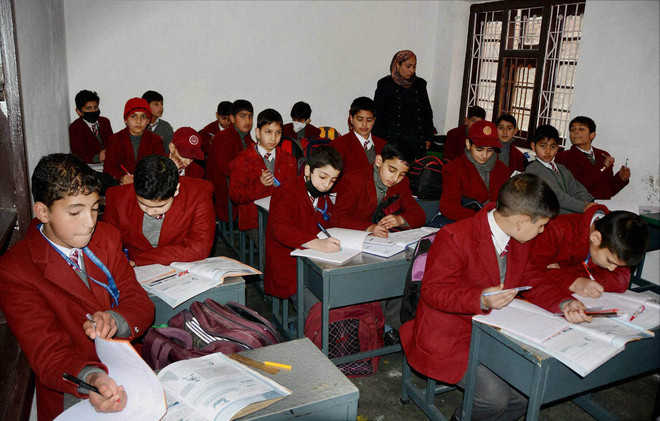 Vikas Sharma
Tribune News Service
Jammu, October 20
To bring an overall improvement in teaching skills of state-run school teachers in J&K, the Department of School Education and Literacy, Ministry of Human Resource Development (HRD) has suggested an lntegrated Teacher Training Programme (ITTP) at the elementary level.
Not only the government teachers at the elementary level, the Central Ministry has emphasised to provide training to head teachers and head masters as well.
Sources said a standardised comprehensive training module is being prepared by the National Council of Educational Research and Training (NCERT). The module will help in preparing teachers for school-based assessment, which is to be held soon.
The sources further said the necessity of specialised training was needed after the poor learning ability of students pursuing study in government schools at the elementary level came to the fore in the National Achievement Survey (NAS).
The survey had exposed the loopholes in the teaching-learning process in government schools. It was revealed that as compared to the national average of 248 in mathematics, J&K's average was 233.
Further, the learning abilities of students studying in Classes III,V and VIII in subjects like language, mathematics, science and environmental science /social science was also very poor. The survey stated that the understanding of language too was very poor among students of government schools. Only 43 per cent students understand language.
Apart from the teaching-learning process, another reason behind poor learning ability among students is shortage of teachers at the elementary level. As per data available, the total sanctioned strength of teachers is 10,1301, whereas, the actual strength is only 94,150. Around 7,151 posts of teachers at the elementary level are still lying vacant.
"The specialist training module once prepared will have sessions which includes modules on inclusive education, improving social personal qualities of children, school based assessment, new initiatives in school education such as performance grading index, early childhood care and education, pre-vocational education in upper primary classes etc", a school education department official said.
"The focus of this training will be on competency based learning which will be helpful in improving children' competencies, including critical thinking, problem solving, creativity as well as social-personal qualities such as cooperation, team work etc", the official added.
'Aim to improve critical thinking'
The focus of this training will be on competency-based learning which will be helpful in improving children' competencies, including critical thinking, problem solving, creativity as well as social-personal qualities such as cooperation, team work etc. Education Department Official