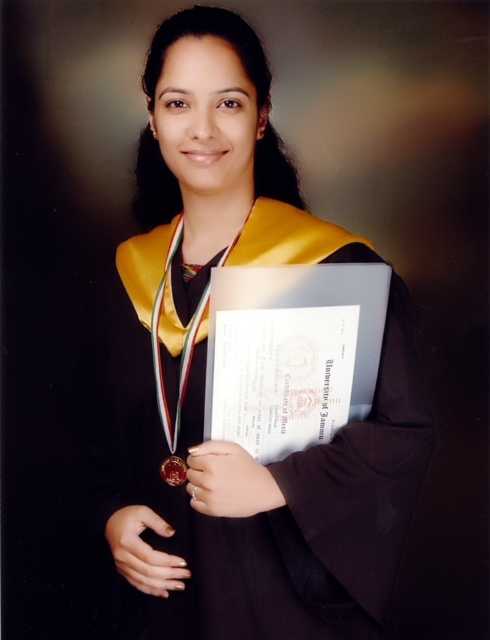 Tribune News Service
Jammu, March 19
Setting an example of excellence for youngsters in J&K, Vaneet Kaur, known as a "woman of letters" from Jammu, has completed her Doctor of Philosophy (PhD) degree at the age of 27 years, and that too, in a record time of barely two years.
The title of her thesis was "Knowledge-Based Dynamic Capabilities and Competitive Advantage: A Study of MNCs in IT Sector".
Her dissertation primarily focused on positing an edifice to the existing strategic management literature by proposing a knowledge-based view to the capabilities of an organisation, which can facilitate it in the pursuit of competitive advantage.
Vaneet, who is a Central scholarship holder and a university gold medallist, is the only daughter of Sewinder Singh Parwanda and Satnam Kaur, residents of Gandhi Nagar, Jammu.
According to the family, she was a brilliant student right from her schooling days and was chosen as the first non-Catholic National Executive Committee memberof a social movement called Young Christian Students/Young Students Movement to inspire and lead the youngsters of various convent schools of the town.
At the age of 14, Vaneet represented India on the regional platform of South Asian countries in Nepal and the very next year, she represented the country on a world platform and visited various European countries with her social mission. Right from her childhood days, she started penning down her thoughts in the form of poetry.
During her graduation days, she was the president of the Government College for Women, Parade. Along with her leadership abilities, she was always an ace student. She secured second position in the Bachelor of Commerce (2008-2011 batch) and was accorded with a silver medal by the Governor of the state.
Thereafter, Vaneet chose to pursue MBA in international business from the University of Jammu. She topped the Business Administration course (2011-2013 batch) of the University of Jammu and was awarded a gold medal by the then President, Pranab Mukherjee.
After completing her postgraduation, she cleared the UGC-NET twice and later went on to pursue her PhD from The Business School, University of Jammu, with particular interest in strategic management and global business operations.
Based on her merit as well as research proposal, she had also been awarded Maulana Azad National Fellowship for her PhD research work by the Central government for a duration of five years.
Vaneet is now working as a lecturer in The Business School, University of Jammu. She has also emerged as a regular columnist for a renowned portal, JK News Today.
Top News
Lhonak lake breaches banks after cloudburst, triggering mass...
Fresh combinations, permutations being studied
Third party leader to be arrested | BJP says Kejriwal 'real ...