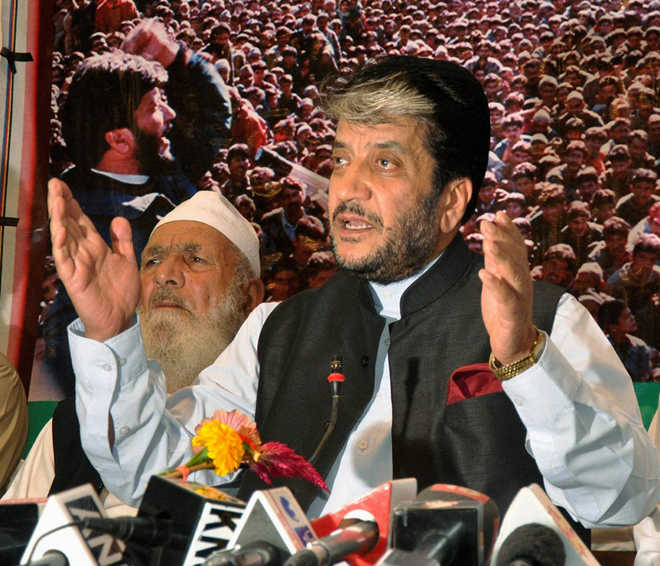 New Delhi, January 31
A Delhi court today denied bail to Kashmiri separatist leader Shabir Shah in a 2007 money-laundering case, noting the Enforcement Directorate's charge that he took money from Pakistan to create unrest in the Valley.
Additional Sessions Judge Sidharth Sharma, who had in August last year denied relief to Shah citing the ongoing probe, dismissed his fresh bail plea.
The court took note of the submission by special public prosecutor NK Matta, appearing for the ED, that "Shah is involved in channelling illegal money sourced from Pakistan, avoiding banking channels, to fund terror organisations in J&K and other parts of the country and if released on bail, he may use his influence in threatening the witnesses".
The agency said further investigation was going on and if granted the relief, the accused, who was arrested on July 26 last year in the case, would not be available for the trial. "The ED is trying to establish the money trail. Call records leading to Pakistan are being scrutinised and the list of donors who paid money to Shah is to be identified and examined. If released on bail at this juncture, the entire effort of the ED to unearth the large conspiracy would be a futile exercise," it said.
In his bail application moved through advocate MS Khan, the accused told the court that there wasn't any possibility of him influencing the witnesses because most of them were either police or ED officials.
"The other witnesses are Shah's family members whom he can influence even while being in the the jail," Khan said.
He said Shah was a permanent resident of J&K and a prominent politician and there was no likelihood of him escaping from justice. "There is no connection between him and the co-accused Aslam Wani from whom the money was recovered following which the present case was registered," Khan said, adding that the probe into the case was complete as the agency had filed its chargesheet.
The court had on August 22 last year rejected Shah's earlier bail plea after the ED said it was probing whether he had received money from countries such as Pakistan to promote terrorism in India.
On November 15, the court had framed money laundering charges under the Prevention of Money Laundering Act (PMLA) against Shah and alleged hawala dealer Mohammad Aslam Wani, also in the judicial custody, in the case. Both the accused have pleaded not guilty and claimed trial. The agency told the court that 36-year-old Wani had come to Delhi from Srinagar on the "directions of Shah" sometime in April 2003 and that was the first time he had met him. Wani was arrested by the ED on August 6 from Srinagar. — PTI