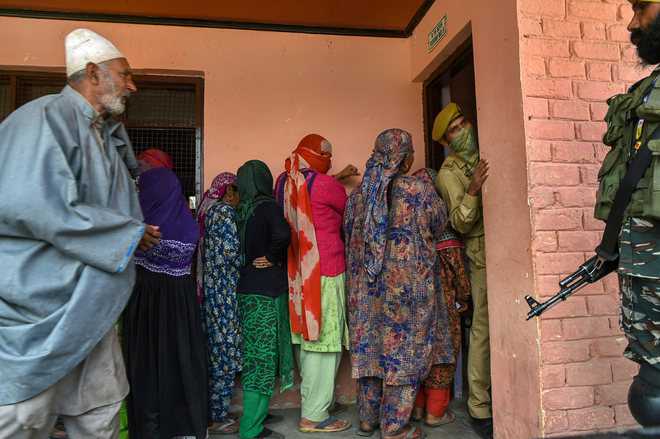 Dinesh Manhotra
Tribune News Service
Jammu, October 19
Even as the party had announced to boycott the Block Development Council (BDC) elections, the Congress leaders, across the Jammu region, are supporting the BJP rebels on many seats so as to stop the BJP from getting a "walkover".
As a large number of BJP rebels are in the electoral battle field, the Congress has decided to take advantage of the prevailing "chaos' in the BJP.
"Of course we are supporting the BJP's rebels who have the potential to defeat the party's official nominees," a senior Congress leader, wishing anonymity, told The Tribune. He admitted that some BJP rebels had sought support from the Congress so the party has unofficially decided to support them to ensure the defeat of the BJP's official nominees.
"We are taking benefit of the BJP infighting," he said and revealed that the BJP has given mandate to political turncoats who had joined the party after the NC, Congress and PDP had announced to boycott the BDC polls.
As BJP leadership has ignored a large number of committed workers to accommodate new entrants from other parties, these dedicated leaders are fighting elections as "independents" to teach leadership a lesson for "betraying" the hardcore lot.
Sources in the Congress said that party had fielded some proxy candidates who had the potential to win elections, but at many places the party had directed its supporters and panchayat members to support the BJP's strong rebels.
As reported earlier after denying party mandate, a number of hardcore BJP leaders are contesting the BDC elections as independents across the Jammu region. Despite efforts by the party, these rebels have refused to retire in favour of official candidates. Out of the 310 seats for which elections were scheduled to be held, the BJP had announced to field candidates on 280 BDC seats.
After announcing to contest the BDC elections, the Congress had taken a U-turn on the last day of filing nomination papers and declared to boycott these "much-hyped" polls.
Fact file
The J&K Government on September 29 had announced to hold the elections on October 24. The results will be declared the same day.
Except BJP and Panthers Party, no other party is contesting the BDC polls being held on the party basis.
Out of total 310 BDC, 27 chairpersons have been elected unopposed.
The government had announced that the BDC polls would be followed by elections of chairpersons of district development boards.
The government has reserved 172 seats for the Scheduled Tribes and Scheduled Castes. Also, 33% seats have been earmarked for women panches and sarpanches.
Top Stories