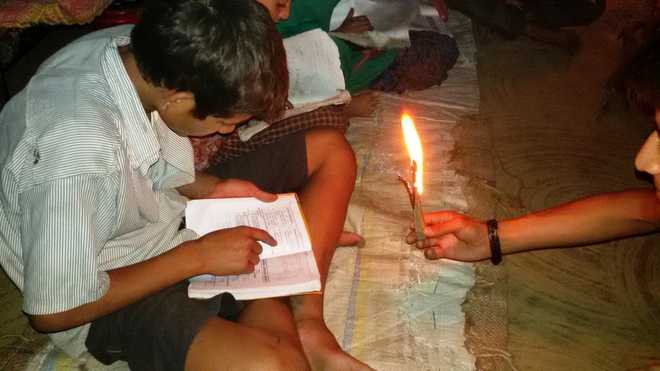 Ranjit Thakur
Doda, December 14
Though the state government had claimed to electrify all villages in the remote Doda district, half a dozen hamlets of Dessa village are still waiting for power since Independence.
Situated just 35 km away from the district headquarters, Dessa villagers alleged that since Independence, they were deprived of even the basic facilities such as road connectivity, healthcare and electricity, etc.
Sixty-year-old Bachitar Singh said, "Most of the hamlets in Dessa village are yet to be electrified. Just only one or two hamlets have been connected to the supply lines. Poles, wires and transformers installed in some areas five years ago collapsed within a few days of installation. However, since then no progress has been made by the department to electrify these villages again."
"Most of the villagers have migrated to cities for better future of their children, but others are living a tough life here. Thereis no development in the area since Independence," he added.
Students have to face the maximum brunt as they seem to be the worst sufferers in the absence of electricity. "We have no other option but to use firewood to prepare for exams. I doubt it's the 21st century as we appear to be living in Stone Age," said Ankush, a student.
Sanjay Suman, a senior official, power development department, Doda, said, "All Doda villages have been electrified, but a few hamlets of Dessa are yet to get power supply. A survey is underway for the second phase of the project. We have also prepared a proposal of damages to infrastructure in these areas."
Top News
Polling began at 8 am and will continue till 5:30 pm
Over 1.45 crore electors are eligible to exercise their fran...
In his speech at IFFI-2022, Lapid had said he was 'disturbed...
The seized drugs are the spurious versions of leading brands...
The follow-up programme of Bharat Jodo Yatra will have yatra...