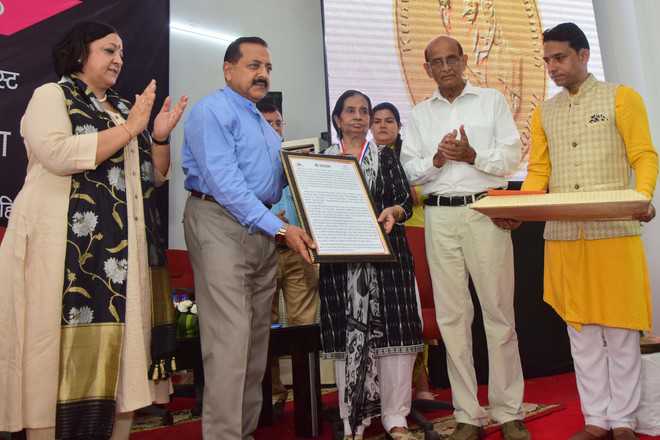 Tribune News Service
Jammu, September 15
The Kunwar Viyogi Memorial Trust (KVMT) today honoured two literary personalities of Jammu while conferring awards on them for promoting Dogri language.
Kunwar Viyogi Sahitya Puruskar award was presented to Roshan Lal Bral while Kunwar Viyogi Sahitya Kala Samman was given to Chatterpal Singh (posthumously).
The awards were given by MoS PMO Jitendra Singh at a function jointly organised by KVMT and the Dogri Sanstha, Jammu .
On the occasion, Kunwar Viyogi Auditorium was also inaugurated, which was a long cherished dream of the Dogri Sanstha to have a cultural hub on the premises of the Dogri Sanstha.
Speaking on the occasion, Jitendra Singh said since Prime Minister Narendra Modi knows and understands Dogri well, the time is appropriate to promote the language.
This he said in context to his oath ceremony taken in the Lok Sabha in Dogri to which Defence Minister Rajnath had asked Prime Minister Narendra Modi about the language.
The language has three important dimensions of survival and prosperity that includes linguistic pride, linguistic literature and linguistic stake.
Poonam Singh Jamwal, Trust founder and daughter of Sahitya Akademi award winning poet, Randhir Singh, popularly known as Kunwar Viyogi, presented a brief account of her father's contribution to literature and also highlighted his works in Dogri .
"I feel privileged today to be part of this historical moment. Though matching my father's skills in giving Dogri its valuable honour is far from my reach, yet reaching out to the youth here and pursuing them to promote, protect and disseminate the language is a very small effort I have taken up," the Trust founder said.
Lalit Magotra, president, Dogri Sanstha, termed it as a historical event saying the long cherished dream of the Dogri Sanstha to have an auditorium was fulfilled and he credited the KVMT for its support and help.
"We have been receiving encouraging response from various political leaders in the past who contributed through different means to uplift the Dogri Sanstha as a cultural centre of the region. But without the support of Kunwar Viyogi Memorial Trust, the auditorium would not have come up," said Lalit Magotra.