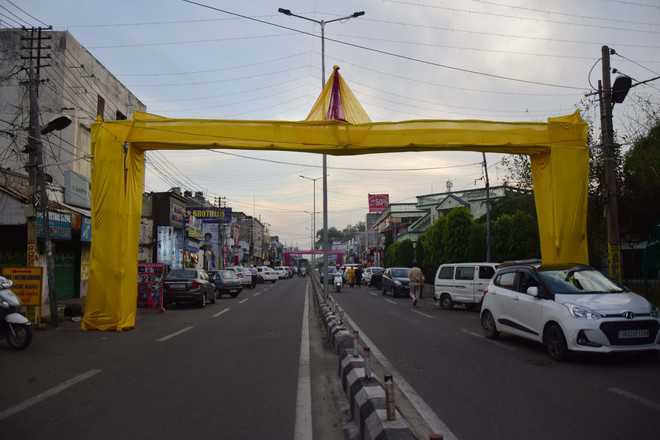 Amit Khajuria
Tribune News Service
Jammu, October 20
The recession has dampened the festive buzz in Jammu markets, as shopkeepers are facing more than 50 per cent lesser sale as compare to previous years.
All main markets such as Apsra Road, Raghnath Bazar and Purani Mandi are waiting for customers with decorated markets and shops full of stock, but the response they were expecting is missing even a week before Diwali.
"We have been facing recession since the start of this financial year, but it went further down after August. The sale has slashed by 60 per cent in Apsra Road market this festive season," said Amit Jandial, president, Apsra Road Traders Association.
The association has been organising Diwali festival for the past 15 years with lot of decoration, food stall, special offers for customers, lucky draws and many more. But this time, the low budget of the market has led to confine them to decoration and food stalls only.
Similarly, the Raghunath Bazar, which is a famous tourist market, is also facing the heat of recession.
"There are different factors which are affecting the sales in our market. First is the overall recession, which is badly affecting the economy across the country and another is the Internet blockade," said Baldev Khullar, president, Raghunath Bazar Traders Association.
"The Internet ban has sent a message that everything is not well in Jammu. Tourists and pilgrims do not prefer to stay here, even if they come to Vaishno Devi, they straightway go back to their destination after paying obeisance at the shrine," He added.
About 50 per cent of the sale in Raghunath Bazar is from the pilgrims and tourists visiting Jammu. However, the local customers are also missing from the market.
Not only the retail markets, but overall business is also dampened in Jammu during the festive season. The advertising market is also facing the heat, which is slashed by 70 per cent in Jammu.
"The business is down by 70 per cent this festival season, as compared to previous years. Companies have slashed their budgets for flex printings, print media advertisings, electronic media or online media advertising," said Prince Khajuria of Palm Advertisings.
"Not only the advertising budgets, but the budget for the exchange of gifts during Diwali has also slashed by more than 60 per cent this year," he said.
Top Stories