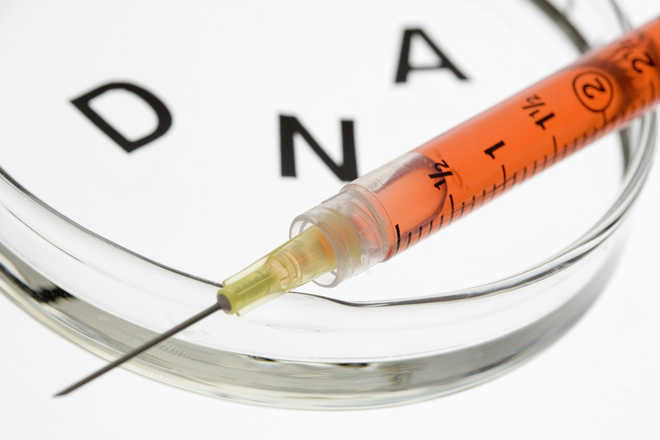 Ishfaq Tantry
Tribune News Service
Srinagar, October 22
The Jammu and Kashmir Police have collected the DNA samples of a Sopore family for matching these with the DNA samples collected from the slain militants who were killed during an encounter with the security forces in the higher reaches of Ganderbal last month.
The police authorities are now awaiting the FSL report as they have already sent the collected samples for forensic analysis to an FSL laboratory. The district authorities, meanwhile, are also awaiting the report from the police before ordering the exhumation of one of the militants buried in the Ganderbal higher reaches on September 29.
In the operation in the Trumkhal Gangbal rocky forest area at an altitude of 400 meters in the Ganderbal district that began on September 27, the Army had killed two militants, one killed on September 27 and the other on October 1. Both were believed to be part of a recently infiltrated group.
While the Army claimed that both slain militants were Pakistanis, a family from north Kashmir's Sopore area had approached the police, saying one of the slain "foreign militants" was their son.
The police said Ghulam Hassan War, a resident of Warpora, Sopore, had approached them, saying one of the slain persons was his son Kamar-ud-Din, who had gone to Pakistan in 2018.
"The DNA samples from the militants have already been collected. Besides, we have collected the samples from the Sopore family," SSP Ganderbal Mohammad Khalil Poswal told The Tribune.
One of the first slain militants was buried in the upper reaches at Trumkhal on September 29. However, before burial, the authorities had dispatched a team of doctors from Sub-District Trauma Hospital Kangan to carry out the postmortem of the slain militant and collect the DNA samples.
Deputy Commissioner Ganderal Hashmat Ali Khan said he was awaiting a report from the police and once the report was received, only then the decision about exhumation would be taken. Moreover, the exhumation depends on the matching of the DNA samples of the family in question and the samples from bodies of slain militants.
'Mother of all 2019 operations'
The combing operation, which began on September 27 and stretched for over two weeks, was undertaken by the Army in an area in the upper reaches of Ganderbal, stretching to nearly 25 sq km that is inaccessible by road
One has to trek for over four hours from Naranag to reach the place. During the operation, even para-commandoes were also airdropped at strategic locations to trace the militants who were believed to have infiltrated through the Gurez sector of Bandipora district
Top Stories