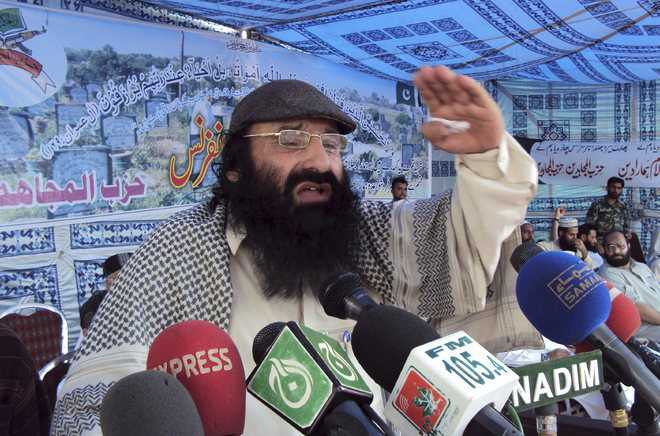 Azhar Qadri
Tribune News Service
Srinagar, July 5
On a midsummer day 17 years ago, Syed Salahuddin — termed "specially designated global terrorist" by the US government last week — walked into a hall packed with reporters at Holiday Inn in Pakistan capital Islamabad.
As he spoke in heavily accented English on August 8, 2000, everyone listened. "I declare the cancellation of the unilateral ceasefire," he announced, and directed his field commanders in the Kashmir valley to go ahead with "target-oriented actions … against the enemies".
Two days later, a massive car bomb in the heart of Srinagar city signalled the translation of his threat as a historic ceasefire – worked out during the third term of Prime Minister Atal Bihari Vajpayee – fell apart. With a single stroke, Salahuddin undid a meticulously charted ceasefire and ended the first major effort at peace-making in the war-ravaged region.
It was an era when Salahuddin commanded a formidable army of militants and his field commanders were battle-hardened with a decade of experience in fighting. The Pakistani state, yet to come under the US pressure to sever ties with militant groups (which happened after the 9/11 attacks), backed him and his organisation.
"He was an influential and motivational speaker. When he would speak, there was very little left to argue," Mohammad Ahsan, a former militant under Salahuddin's command, told The Tribune.
Salahuddin is now 65 years old and continues to remain the chief of Hizbul Mujahideen and chairman of an umbrella militant structure called the United Jihad Council.
A prayer leader in Srinagar during the 1980s and a mid-rung member of the Jamaat-e-Islami, Salahuddin became the Hizb patron in 1993 when he crossed the border into Pakistan and subsequently became its powerful chief.
An investigation carried out by the National Investigation Agency (NIA) in 2013 listed Salahuddin's residence at G/10-2 in Islamabad, Pakistan. It also noted that Salahuddin – born in 1952 at Bonpora-Soibug village of Kashmir's Budgam district – has an "overall command and control over planning and execution" of militant activities by Hizb cadres.
However, far from the influential spot that Salahuddin held over Kashmir politics till the early years of the last decade, the militant commander now heads an organisation that is a shadow of its former avatar and limited to a 100-odd militants.
Salahuddin no longer has battle-hardened units on the ground and a new generation of young militants are increasingly drifting towards radical Islamism and taking initiatives on their own.
The rise of maverick militant commanders such as Burhan Wani and Zakir Musa has also pushed the influence of Salahuddin to limited pockets, which are deeply aligned with the pro-Pakistan ideology and influenced by the Jamaat-e-Islami.
In the last three years, Salahuddin has faced two major rebellions. The first broke out in north Kashmir in 2015 and the second in south Kashmir this year.
The rebellions caused unprecedented ideological splits in Hizbul Mujahideen as senior field commanders were no longer compatible with the politically influenced Islamism, espoused by Salahuddin's parent organisation Jamaat-Islami that remains an influence on Hizb's old guard.
Even as the first rebellion was contained within months, the latest is spiralling out of control as Zakir Musa, the successor of popular militant commander Burhan Wani, shifted allegiance to the more radical global Islamism that abhors nationalism and treats the Pakistani state on unfriendly terms, if not as an enemy.
"Most of the new militants do not recognise the command structure based in Pakistan. This has been happening for the last five to six years since all Pakistan-trained militants got exhausted," said a senior police official, who has long experience in counter-insurgency grid.
Militancy in Kashmir also underwent a major evolution in recent years as the chain of command and guiding influence from parent organisation to the on-the-ground cadres broke down. The new militants, many of them overtly Islamists, began to operate on their own in the unit or district levels with limited reliance for finances and directions from Pakistan-based commanders. "Now the directions don't come from across, but most attacks are now planned and carried out on their own and the parent organisation is only left to claim responsibility for them," the official said.
Ahsan, a former Hizb commander who claimed to have a direct line of communication with Salahuddin during his militant years, said the new militants were striking the popular sentiment by taking initiative, which Salahuddin lacked. "The brain of a new militant is like a computer; he thinks and decides his activities … Burhan became so big because he took initiative," he said.
Salahuddin has limitations, Ahsan said. "The base camp is based there (in Pakistan), the sources of weapons and finances are with them, so he has to listen to them," he said.
The political analysts believe that Salahuddin, despite being designated by the US government, will continue to wield influence in the region till he "complements the position of Pakistan on Kashmir". "I think they (Pakistan) will carry him along," said Noor Ahmad Baba, a retired professor of political science.
"He is not dependent on outside (Pakistan) support, he doesn't possibly require finances from outside, so as long as Pakistan supports him and he complements the Pakistan position on Kashmir, I don't think there will be any problem for him," Baba said.
Baba said the problem for Salahuddin will arise if at some point there is a "divergence in his position and Pakistan's position". "He is operating from that soil, so he cannot be completely independent," he said.
Lost in the crowd
Far from the influential spot that Salahuddin held over Kashmir politics till the early years of the last decade, the Hizb commander now heads an organisation that is a shadow of its former avatar
He no longer has battle-hardened units on the ground and a new generation of young militants are increasingly drifting towards radical Islamism and taking initiatives on their own