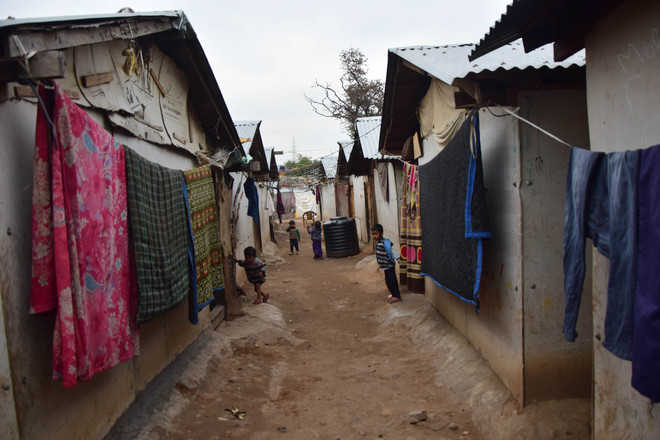 Arteev Sharma
Tribune News Service
Jammu, February 5
Against the backdrop of biometrics and profiling of personal data of Rohingya staying in Jammu and Kashmir, security agencies are now looking into all circumstances that led to the "illegal settlement" of Myanmar residents in the Jammu region under an alleged "conspiracy".
"Some exercise has been undertaken and it is still in progress. It will be premature to divulge more details on the issue. The CID wing is conducting the profiling and biometrics of Rohingya," said a senior police officer, requesting anonymity.
The officer, however, said the recovery of about Rs 30 lakh from a shanty of Rohingya immigrants in Jammu's Channi Himmat area in August last year had been thoroughly probed and it was also being looked into whether there was any source of funding to these people.
According to Rohingya, around 200 families, under fear psychosis and the looming threat of forcible deportation to Rakhine in Myanmar, had allegedly left the Jammu region for Hyderabad and unknown places since the start of biometrics and the profiling of personal data through a detailed 16-page form.
"Fearing threat of forcible deportation to Myanmar, around 200 families have already left Jammu and are either staying in Hyderabad or in other parts of the country," said Riazul Islam, an 'ulema' who runs a madrassa in Rohingya Colony here.
He countered the reports that Rohingya were "persecuted" in Jammu, saying "No one from the police or administration have ever threatened or intimidated us."
Riazul said, "We have been projected wrongly by media and some political leaders for their vested interests. There is not even a single instance where Rohingya immigrants were involved in militancy-related incidents or any major crimes."
The campaign for the deportation of Rohingya had started in 2017 when the Panthers Party put up hoardings in Jammu city "Rohingya, Bangladeshi Quit Jammu". Later, rightwing groups held protests.
Police records said there was no incident of any attack on the Rohingya locality in Jammu despite outrage by political as well as several right-wing groups for their deportation from here.
Riazul, however, failed to give satisfactory reasons for the long travel of Rohingya from the Burma border to Jammu, saying "Running for safety of their lives, Rohingya, guided by agents, boarded trains and they reached here."
After terror attack on the Sunjuwan military station in February last year, Rohingya again came under the radar of security agencies as their alleged role in assisting militants was probed. However, their involvement has not been established as yet.
In June last, Home Minister Rajnath Singh had announced that Rohingya would be deported to Myanmar and the Centre told all states not to issue any identification documents to them.
Thereafter, Governor Satya Pal Malik, in November 2018, had announced that biometrics of Rohingya living in Jammu would be completed by January 2019 and sent to the Centre.
"Earlier, they (CID people) came with forms in Urdu, but later they changed the format of forms to English. Our people are illiterate who fear that the personal details being listed in the forms may be taken as consent to forcibly deport them. Many of our people resisted to biometrics, but after counselling they agreed to the process," said another senior member of the community who declined to be named.
Ramesh Kumar, Jammu Deputy Commissioner,claimed that there was no report of any persecution of Rohingya but refused to share details about the profiling and biometrics exercise.
'6,523 Rohingya in J&K'
The home department, in a report tabled in the Assembly last year, had said there were 6,523 Rohingya (over 400 without UNHCR cards) living at 39 places in five districts of J&K
Of the 1,517 families, 1,483 families are staying in Jammu, Samba and Kathua districts alone
Over 1,500 Rohingya children are studying in madrassas and government schools located close to their localities
In August 2018, the Home Ministry, in an RTI reply, had claimed that no Rohingya immigrant had been deported from J&K
Top News