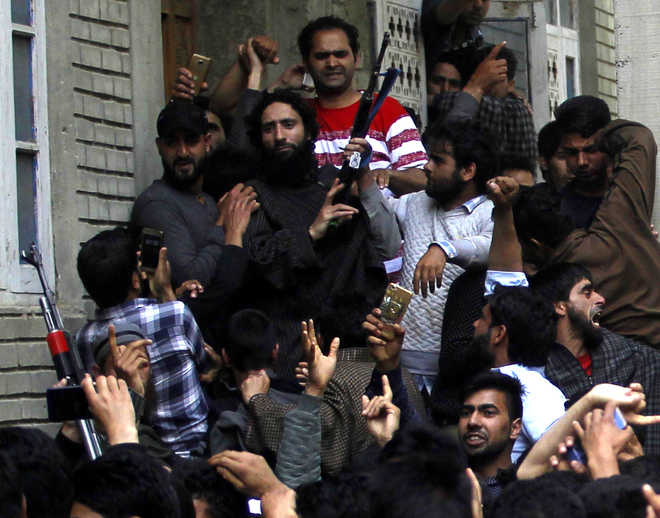 Azhar Qadri
Tribune News Service
Shopian, May 16
The orchards across south Kashmir are lush green as it is summer season now and a pleasing fragrance makes the rural landscape here distinct from the region's crowded and polluted urban neighbourhoods.
Amidst this picturesque landscape of Shopian district, militants lurk in shadows, gathering in large numbers in the shade of orchards where they click pictures and shoot videos. Here they are protected by a shield of sympathetic civilians even as the 'nationalist versus Islamist' debate has divided the separatist movement into two camps.
In the villages of Shopian, many young men are open and brazen about their support to Zakir Musa, a militant who is leading the revolt against the traditional separatist leadership – from the militant and political blocs.
In the nearby village of Trenz, a science graduate student burst into a pro-militant rhetoric and described how social media was powering Musa's message to reach every home in the region. "We will do what Zakir will ask us to do. Whatever he said is right," he said.
Musa's threat to the separatists — that he will behead them if they become a hurdle in the path of establishing Islamic rule — has also confused many. "He has been a militant for only four years and the separatist leaders have been here for more time than his age, so how can he say this about them?" Fayaz Ahmad, an orchadist in Shopian, said. "We are with Musa but he should be cautious about what he says," he said.
The police in south Kashmir said they were keenly watching the developments and monitoring their impact as militant numbers in its four districts fluctuate between 120 and 150.