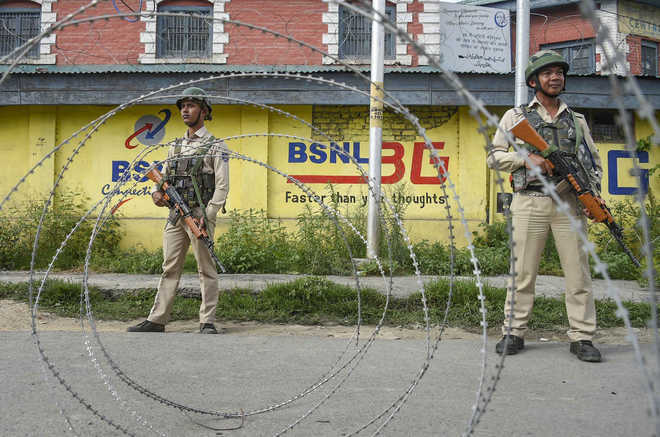 Majid Jahangir
Tribune News Service
Srinagar, October 9
After withdrawing the advisory for tourists, the J&K Governor Administration is all set to restore the mobile post-paid telephones in the Valley.
J&K may restore the BSNL post-paid in the coming days, a decision has been taken in this regard and only dates has to be decided, government sources privy to the development said.
"The post-paid BSNL phones will be restored in the coming days," the sources said. "Delhi has also agreed to it and the mobiles may be even restored on Wednesday or Thursday. Only if something very drastic happens, the restoration of mobile phones may get delayed."
Hours ahead of the big Kashmir decision of scrapping of special status to J&K on August 5, the government suspended the entire communication and the Internet as they anticipated massive law and order situation in valley.
The government eased restriction on the communication blockade days after the scrapping of Article 370 by restoring the landline telephones in a phased manner and the post-paid Airtel phones with only incoming facility in frontier Kupwara district. The crippling communication blockade for the last over two months, has left every Kashmiri family in pain.
There have been severe criticisms of the government over the communication blockade. In the past, the J&K government spokesman has been arguing that "provocation from across the border" was hampering the restoration of mobile phones.
Out of the total mobile base of over 60 lakh in Kashmir, the BSNL has nearly 80,000 post-paid phones operating in Kashmir. Over 5,000 post-paid mobile phones of government officials and police are already functional.
The sources said the government would slowly restore the post-paid phones of other telecom companies. J&K had suggested the Centre to restore mobile phones around last month, but the decision was reportedly vetoed by the Centre as the UN General Assembly session was around.
Apart from hitting normal lives, the communication blockade has also slowed down the anti-militancy campaign.