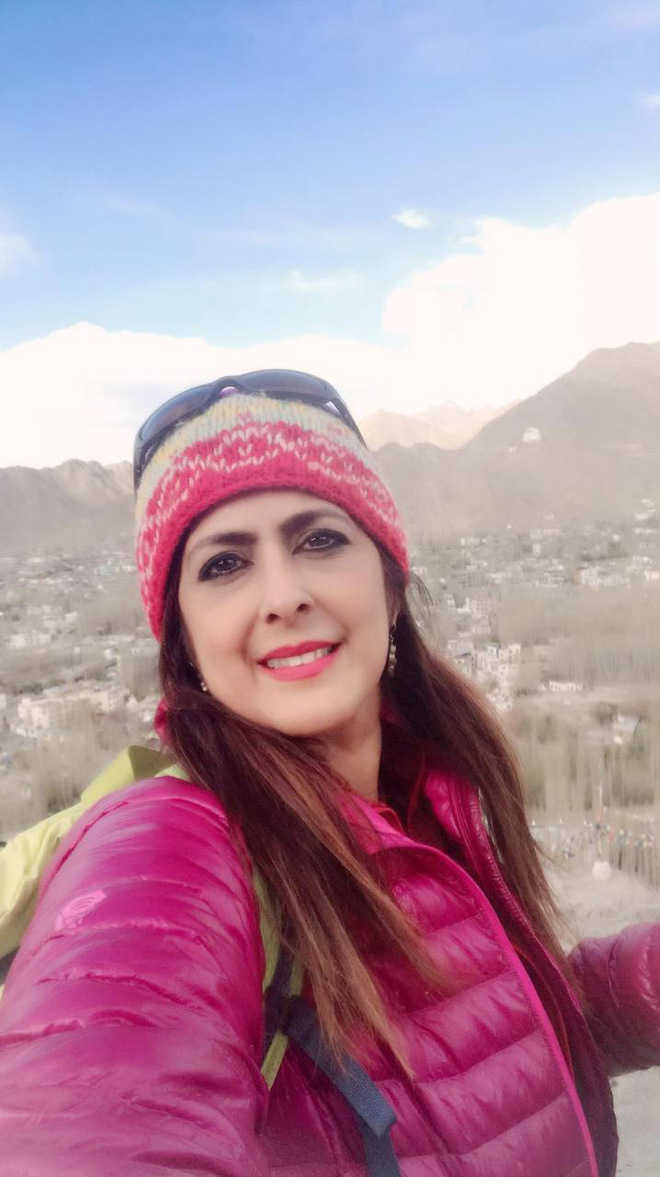 Vikas Sharma
Tribune News Service
JAMMU, May 8
After becoming the oldest Indian woman to scale world's highest peak, Mount Everest, in May 2018, 54-year-old Sangeeta Sindhi Bahl is all set to scale Mount Denali, the highest mountain peak in North America. With this, she will become the oldest Indian woman and the first ever from J&K to complete Seven Summits.
Born and brought up in Jammu, Sangeeta, founder director and image consultant of Impact Image Consultants, based in Gurgaon, has broken the record of Premlata Agarwal from Jharkhand to become the oldest woman from India to climb Mount Everest at the age of 53. Earlier, Premlata (born in 1963) had scaled the world's highest peak at the age of 48 in 2011.
Two years later, Premlata completed Seven Summits in May 2013 at the age of 50. If Sangeeta achieves success in scaling Mount Denali, she again will break the record set by Premlata.
Pertinently, the Seven Summits comprise the highest mountains of each of the seven continents of the world. Climbing to the summit of all of them is regarded as a mountaineering challenge.
The six summits already climbed by Sangeeta are Mount Kilimanjaro (Africa- December 31, 2011), Mount Elbrus (Europe- July 18, 2013), Mount Vinson (Antarctica- January 18, 2014), Mount Aconcagua (South America- January 23, 2015), Mount Kosciousco (Australia- October 1, 2016) and Mount Everest (Asia- May 19, 2018).
"Before reaching Leh, I also went to the US to learn basic things, like how to set up camp, cook, navigate, snow and ice crafting, besides being self sufficient. Denali is a beautiful mountain with treacherous weather and extreme cold," Sangeeta, who is presently undergoing rigorous training at Leh, told The Tribune.
She will return to Delhi on May 4 and then leave for North America on May 10.
"I am ready to deal with whatever comes my way to make my country proud once again. I also have three Indians on the climb with me and we are surely going to have an exciting time ahead," the confident ace climber maintained.
Overall, nine Indians have so far scaled the Seven Summits. They include Malli Mastan Babu (posthumous), Premlata Agarwal, Tashi Malik, Nungshi Malik, Commander (retired) Satyabrata Dam, Satyarup Siddhanta, Ankur Bahl, Group Captain RC Tripathi and Colonel Ranveer Singh Jamwal.
Sangeeta has also turned vegan recently. "My cause on this climb is veganism and stopping all cruelty to animals. I wish to spread my voice for the voiceless", she added.
Climbed Everest at 53
Born and brought up in Jammu, Sangeeta Sindhi Bahl, founder director of Impact Image Consultants, based in Gurugram, has broken the record of Premlata Agarwal from Jharkhand to become the oldest woman from India to climb Mount Everest at the age of 53. Earlier, Premlata (born in 1963) had scaled the world's highest peak at the age of 48 in 2011
Top News
Action after security agencies flag data leak, extortion
3 posers daily, Congress steps up attack
Khalistan issue, extradition of fugitives taken up