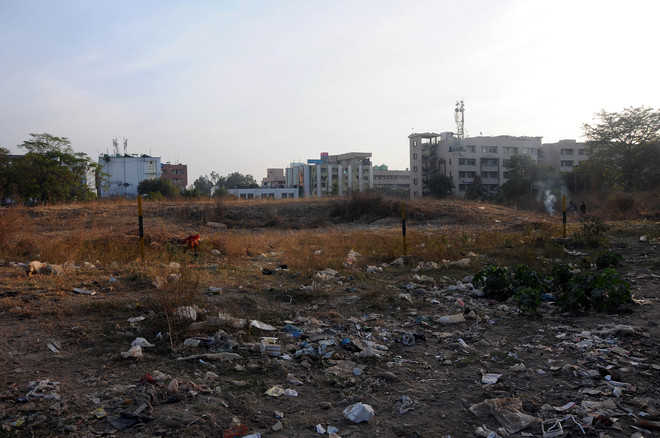 Arteev Sharma
Tribune News Service
Jammu, December 5
The decision of the Jammu Development Authority (JDA) to auction a huge chunk of prime land for constructing a shopping mall or commercial complex has raised many eyebrows as stakeholders are alleging that "it is a covert attempt to benefit some persons with political links".
In an 'alert notice' issued on December 2, the JDA said it was in the process of selling land at two prime locations — 24 kanals at Bahu Plaza, opposite Media Centre, and 1.55 kanals near Wave Mall, Bypass Road. "These sites are meant for the development of shopping mall, multiplex and commercial complexes. The site at Bahu Plaza is to be auctioned on premium with fixed monthly rent to be paid by the prospective bidder for the construction and sale/handling of the multiplex or mall. The JDA will receive the premium and monthly rent after the completion of the project based on total permissible floor area or any other terms and conditions," the notice read.
The JDA said the idea of auctioning its prime land was to generate revenue as it had been facing financial crunch.
"We don't have enough resources to develop land for commercial purposes. We cannot own every building. We will auction the land and get rent from the bidder on a monthly basis. The proposed shopping mall or commercial complex will be developed by a private party and it will generate revenue for the JDA," said Rajesh Kumar Shavan, JDA Vice-Chairman.
Stakeholders, however, alleged that it was a "hidden agenda" of the JDA to "benefit selective people with good financial background through the auction mode of selling its prime land".
"The JDA has been playing a big fraud with people. Only selective people, most of them from outside, will participate in the auction through their proxies in the state. How can you expect that a person from the state will participate in the auction of such a huge chunk of land which has a market value in several crores? It is an attempt to debar the state's businessmen from the auction process," alleged Narinder Singh Jamwal, former Mayor of the Jammu Municipal Corporation.
Jamwal said it was "misleading" that the JDA was short of funds to develop commercial complexes.
"Among all bodies, the JDA is considered to have sufficient funds in the form of land and other resources. The JDA is rather a cash-rich body. The authority is seemingly pursuing a hidden agenda to benefit a particular person from outside the state through this move," he said.
Raman Sharma, an activist, alleged: "The JDA should disclose the names of the allottees as it is suspected that it has already decided to whom the land has to be auctioned. The authority has lost its credibility and is hoodwinking the people of the state. No small businessman from the state will participate in the auction of a big chunk of 24 kanals of commercial land."