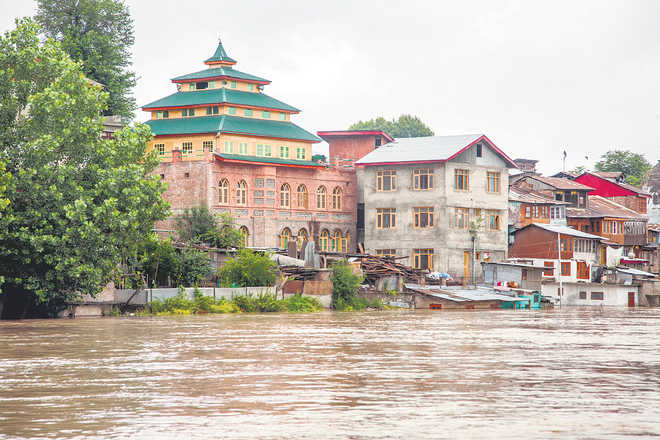 Azhar Qadri
Tribune News Service
Srinagar, June 29
The water level in the Jhelum crossed the "flood declaration" mark in Srinagar on Saturday, putting the central Kashmir region in danger of widespread flood and highlighting the administration's failure of working on effective flood mitigation measures.
At midnight, the water level of the Jhelum touched the 18-foot mark, the designated level for announcing a flood alert, at Ram Munshi Bagh in Srinagar and kept rising through the night and neared the 21-foot mark before stabilising.
The river's crossing of the flood declaration level at Ram Munshi Bagh placed the areas of central Kashmir, including Srinagar, in danger of a widespread flood as several low-lying residential localities were inundated and embankments were breached at several places.
Embankments were breached near Galandar, Tanchibagh and Sangam in south Kashmir's Anantnag and Pulwama districts, but were quickly plugged, while parts of several residential neighbourhoods in Srinagar district were inundated.
The levels of the Jhelum and its tributaries rose rapidly at the frightening rate of one foot per hour for several hours on Friday as heavy rainfall was received across the south Kashmir region, where these water bodies originate before flowing into central Kashmir and then snake into north Kashmir.
In south Kashmir, the river had, on Friday, crossed the flood declaration mark when it touched the 21-feet mark at Sangam in south Kashmir. It continues to remain above that mark.
As the river crossed the flood declaration level at Ram Munshi Bagh, the authorities issued an alert for residents of the low-lying areas and along the embankments of the river and streams in central Kashmir. They were advised to remain vigilant. A similar alert was issued for south Kashmir on Friday.
The latest flood alert is the third in the last four years since September 2014, when unprecedented heavy rainfall had overwhelmed the Jhelum, the only outlet for rainwater from the Kashmir valley. The recurrent threat of flood caused by brief spells of torrential rain highlights the failure of the administration to work on effective mitigation system.
Over the last four years, the administration has worked on short-term measures, including dredging the river and its flood-spill channel to increase their holding capacity. Experts have warned that relying on short-term measures can prove disastrous for the region.
The Jhelum, which was 1.78 feet before the rainfall began on Thursday night, is now flowing close to the top of its embankments. The river is estimated to hold 33,000 cusecs of water.
The moderate to heavy rainfall, which continued for almost 36 hours Thursday evening onwards, stopped on Saturday morning. It is likely to stabilise the river's water level and degrade the flood situation.
The forecast issued by the Meteorological Department suggested that light rainfall was likely at fewer places in the region on Sunday, while downpour with varying intensity would continue to occur for rest of the week.
Third alert since 2014
The water level of the Jhelum touched the 18-foot mark, the designated level for announcing a flood alert, at Ram Munshi Bagh in Srinagar and kept rising through the night and neared the 21-foot mark before stabilising
The latest flood alert is the third since September 2014 when unprecedented heavy rainfall had overwhelmed the Jhelum. The recurrent threat of flood caused by brief spells of torrential rain highlights the failure of the administration to work on an effective mitigation system