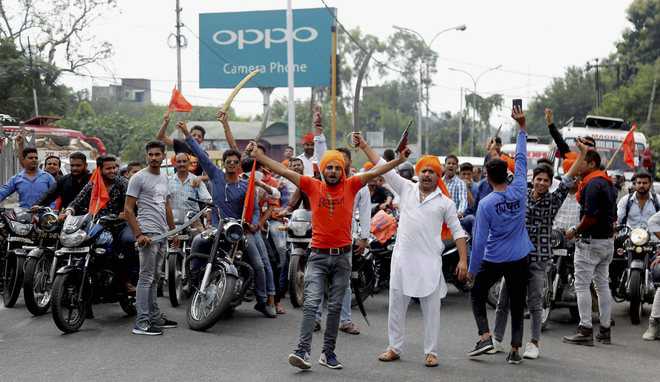 Tribune News Service
Jammu, July 28
Social groups have mounted pressure on the state BP unit to convince the Governor's administration to declare a holiday on September 23, the birth anniversary of the last Dogra ruler Maharaja Hari Singh.
The BJP has repeatedly assured locals regarding fulfilling its commitment of recognising services of the last Dogra ruler by declaring a holiday on his birth anniversary.
After the Jammu Municipal Corporation (JMC) unanimously passed a resolution regarding a holiday on September 23 every year, the state BJP leadership is in a fix as the JMC is dominated by the saffron party.
The general house of the JMC, comprising Mayor, Deputy Mayor and all elected councillors, in its meeting on July 17 had unanimously resolved "to honour the sentiments of the public by accepting the long-pending demand of people of Jammu to declare a holiday on the birthday of late Maharaja Hari Singh."
Within days, social organisations have started exerting pressure on the BJP to fulfil its commitment. "It is high time for the party to fulfil its commitment by convincing the Governor's administration on the issue," said Zorawar Singh Jamwal, chairman, Team Jammu.
Hoping the BJP would take some steps, Jamwal reminded the BJP about the resolution passed in the Legislative Council in this regard.
The Yuva Rajput Sabha has also demanded a holiday on September 23.
---
To honour public sentiment
The general house of the JMC, comprising Mayor, Deputy Mayor and all elected councillors, in its meeting on July 17 had unanimously resolved "to honour the sentiments of the public by accepting the long-pending demand of people of Jammu to declare a holiday on the birthday of late Maharaja Hari Singh."