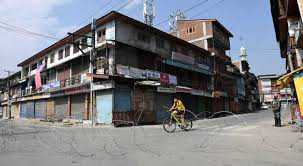 Arun Joshi
Tribune News Service
Jammu, September 14
The clampdown on communication that has severed the connection between Jammu and Kashmir and the rest of the world and has become an issue of human rights violations is likely to be lifted on October 31, the day the state will get bifurcated officially into two union territories.
The officials who have discussed this proposal and almost decided to restore the communication network to its August 4 level, when Kashmir was in touch with the world, have however attached one rider. "The whole plan will go haywire if there is some mischief from across the border (by Pakistan) or from within the state," a source privy to the deliberations told The Tribune. The officials keenly watching the situation have felt encouraged by the almost negligible violence throughout the lockdown period.
Top Stories
After bhoomi pujan in Ayodhya, Bhagwat says have fulfilled r...