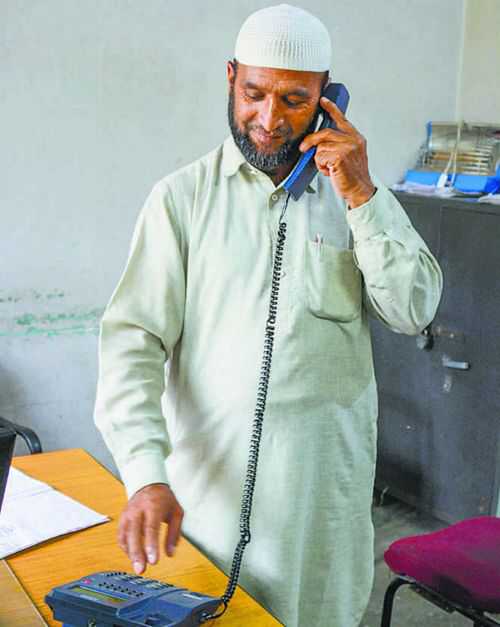 Azhar Qadri
Tribune News Service
Srinagar, August 21
The central telephone exchange of the BSNL located at Lal Chowk and catering to key commercial neighbourhoods remained shut on Wednesday, six days after the government said it had ordered restoration of landline phones.
The shutdown of the main exchange had affected the landline service in the commercial neighbourhoods in and around Lal Chowk, the commercial nerve centre of the city and home to media offices.
A senior government official said the exchange was not yet functional as the BSNL faced "technical constraints" in restarting its functioning in Kashmir Valley.
The official on Tuesday evening said nearly 63,000 BSNL landline phones throughout the state — including in Jammu, Kashmir and Ladakh divisions — had been restored.
The administration had on Friday announced that it had ordered restoration of landline phones in the state and was hopeful that all phone exchanges would be functional within two days.
The shutdown of the main exchange, however, has impacted the working of commercial offices, media offices and shopkeepers who are located in the central city areas.
The areas where the landline phones have been restored are mainly based in the southern part of the city and include Raj Bagh, Jawahar Nagar, Rawalpora, Baghat, Gogji Bagh and Natipora neighbourhoods.
The unprecedented shutdown of landline phones came into effect on August 4 midnight and was part of a blanket gag on communication which also saw the snapping of mobile phones and internet in Kashmir valley.
The communication breakdown — which is now more than a fortnight old — has affected all sections of society in the Valley and has left an information void among the residents.
Reaching out through TV
Many residents are still unable to call their loved ones who work or study outside the state. As a result of the ongoing communication breakdown, several local TV channels now broadcast messages from Kashmiri residents who are living outside the state with the hope that they reach their family
63,000 landline phones restored
An official on Tuesday evening said nearly 63,000 BSNL landline phones throughout the state - including in Jammu, Kashmir and Ladakh divisions - had been restored
Top News