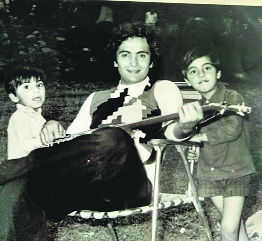 Samaan Lateef
Tribune News Service
Srinagar, July 9
As the Kapoor family sold the iconic RK Studio, its namesake in picturesque Pahalgam in south Kashmir is struggling for existence.
Almost 45 years ago, legendary showman Raj Kapoor, holding a glass of whisky walked down a road in Pahalgam to meet his young friend Ravinder Kumar, the owner of RK Studio.
Kumar had never tasted liquor. Raj Kapoor, who was in Kashmir for shooting of Bobby in 1973, insisted on sharing a drink. Upon refusal, Raj Kapoor yelled at Kumar's wife Veena Vijj, "Why is he (Kumar) refusing to drink? He has been turning down my invitations to join Bollywood as well. What's he up to."
Kumar, a resident of Jalandhar, responded to Kapoor that he was well placed in Kashmir and did not want to relocate to Bombay. "We want to live and die in Pahalgam," Kumar had told Raj Kapoor then.
Kumar wanted to live with the legacy of Raj Kapoor, who named his photography studio as Ravinder Kumar (RK) Studio and inaugurated it in November 1961. The RK Studio used to be on the list of Bollywood stars in Kashmir.
In his early 20s, Kumar had become a name in still photography. He had moved from Jalandhar to Pahalgam and started photographing Bollywood stars.
He had worked with stars from the Kapoor family, Rajesh Khanna, Dimple Kapadia, comedian Om Prakash and many more Bollywood actors.
Half a century later, RK Studio is struggling for existence after a fire devastated it in November 2005. The government permitted the reconstruction of the building with clear directions to the landlord, Reyaz Sodagar, that permission shall have no effect on the tenant-landlord relationship.
Kumar had to approach the J&K High Court to seek possession of his business unit. The High Court in 2014 ordered, "the petitioner (Kumar) be allowed to operate his business in the shop which was under his occupation prior to the reconstruction of the building."
The government handed over the possession of the shop to Kumar on July 16, 2018. However, he alleges that the landlord is putting hurdles in running his business smoothly.
As the government continues to neglect RK Studio, Kumar, presently living in a hotel in Pahalgam along with his wife, is yearning for the resumption of the studio. They have been waiting since 2005. They may go back to Jalandhar in winter, but return in spring again to continue their fight for their right.