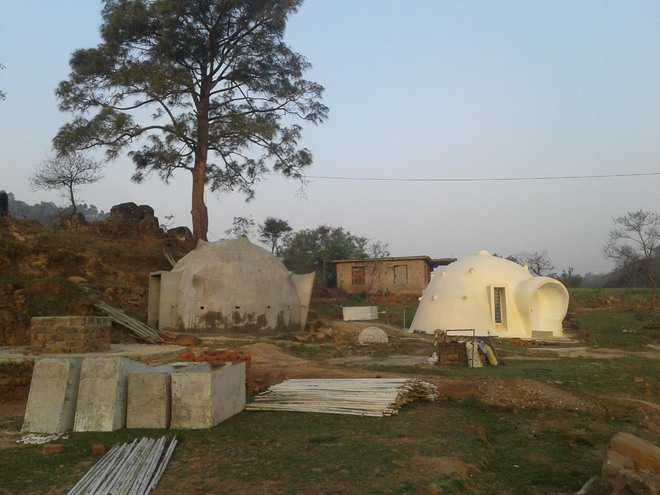 Vikram Sharma
Tribune News Service
Jammu, July 15
A local youth has realised his dream of making the first-ever shell-domed igloo tourist hut at Khoon, Majalta town, 65 km from here.
An architectural engineer by profession, Vivek Sharma has constructed an eco-friendly igloo hut, which he intends to bring in the tourist plan of the state.
"It is a beehive concept of concrete construction with round or oval-shaped roof not supported by any beam or pillar. A small mound of concrete, sand and gravel is made with nearly 500 holes dug into it and plastic pipes of size of 8-10 feet pushed into these holes to make it a porcupine type of structure," Vivek said.
After securing the patent of such structures from the department of industrial policy and promotion, Ministry of Commerce and Industries, he went ahead to purchase land near various tourist spots in Jammu so that such domes could serve as tourist huts.
The beehive module of pipes (tentacles) is spread with a heavy material cloth pulp mixed with concrete slab of 2.25 inches thickness and 4-mm steel randomly used to tie the dome structures, which are resistant to all weather conditions and natural calamities such as earthquakes, hurricanes, snow blizzard or windstorm.
Vivek said the research and development of the project was little expensive but a single unit of the igloo hut of one marla, which consists of a kitchen, double-bed space, table with two chairs and a small bathroom, will not cost more than Rs 3 lakh.
Being an eco-friendly 'home away from home', the dome is a single-storeyed unit with a spherical water channel running along the base wall of the shell that helps rainwater harvesting and can be used for plantation drive around the hut also. Solar power utility is used for electricity generation in the dome.
"The idea is to present people with unique outdoor units in the untravelled areas having huge environmental and ecological value," Vivek added.
His 'Ik Gran Saarve Bhumee' project for dome huts includes contributory investment in land conceived as a forum of interested entrepreneurs in unique land-based projects inviting their direct participation on the condition of equal incentive and stake.
The important features of the 'Ik Gran Saarve Bhumee' project include stay in dome-shaped huts under ecologically sensitive environment. Picnic lawns, play area for children, farm-house like feel with self-grown organic vegetables and open kitchen are some of the other features of these huts.
Home away from home
Costing around Rs 3 lakh, a single unit of 1-marla igloo hut comprises a kitchen, double-bed space, table with two chairs and a small bathroom
Spherical water channel runs along the base wall of the shell that helps rainwater harvesting and can be used for plantation drive around the hut
Solar power utility is used for electricity generation in the eco-friendly hut
Picnic lawns, play area for children, farm-house like feel with self-grown organic vegetables and open kitchen are some other features
'It's a beehive concept'
It is a beehive concept of concrete construction with round or oval-shaped roof not supported by any beam or pillar. A small mound of concrete, sand and gravel is made with nearly 500 holes dug into it and plastic pipes of size of 8-10 feet pushed into these holes to make it a porcupine type of structure. Rs Vivek Sharma, architect