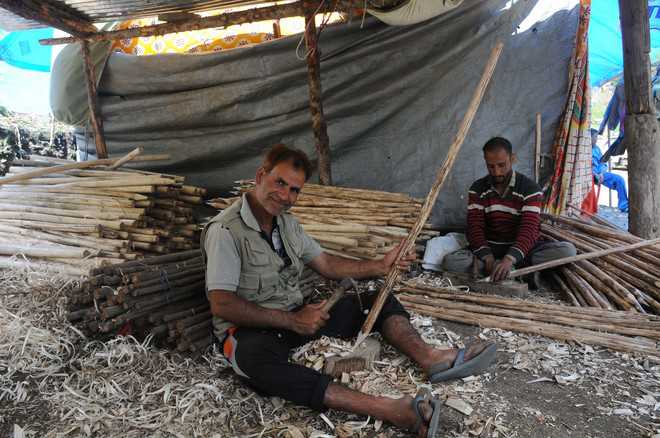 Dinesh Manhotra
Tribune News Service
Chandanwari, July 9
Entry of a group of pilgrims, inside this makeshift base camp for the annual Amarnath Yatra, brings smile on the faces of Mohammad Ashraf and his partner Nazir Ahmed Lone who have set up a temporary shop in this camp.
The duo, who hail from the Kulgam area of south Kashmir, prepare walking sticks for the pilgrims who prefer to cover 32-km track on foot to have "darshan" of the Ice Lingam.
Like Ashraf and Lone, there are hundreds of small shopkeepers, traders and local youth who earn handsome income during the annual Amarnath pilgrimage.
From walking sticks to puja items to Kashmiri shawls, local Muslims earn handsome money during the yatra period.
"We anxiously wait for the Amarnath yatra. We want the yatra to be progressed peacefully because our livelihood is dependent on it," Lone said.
Scores of Kashmiri Muslims have set up temporary shops at the Chandanwari base camp selling many things from puja items to rain coats, jackets and other handicraft materials to the pilgrims.
"Two months is a sustainable source of livelihood for us," said Rafiq, who sells rain coats, hats and other items, adding, "It is not just a job, it also gives me satisfaction to cater to the need of devotees." Every year thousands of Muslims offer their services during the yatra, including renting out their ponies and working as palanquin bearers.
Pilgrims who prefer to travel by foot usually employ local labourers to carry their luggage, others travel on horsebacks employing horse men and certain elderly usually prefer palanquins (palkis) that is carried by four labourers up to the cave, giving a handsome earning to local workers.
"In search of employment, many young people from south Kashmir and other areas come every year to offer services to the pilgrims. A majority of these young people work as "pithu" and labourers to carry palanquin," said Mohammad Rafiq, a local shopkeeper.
Local taxi operators also earn handsomely during the yatra period because no taxi is allowed beyond Pahalgam so pilgrims have to travel in local taxis to reach the Chandanwari base camp.
Rs 40 lakh business of walking sticks
Business of walking sticks touches nearly Rs 40 lakh during the Amarnath yatra. According to Mohammad Ashraf and Nazir Ahmed Lone, over 200 people are involved in preparing and selling these sticks to the pilgrims. On an average, each of them sells 1,000 sticks during the yatra period at a cost of Rs 20 per stick. 200 persons sell 2,00,000 sticks – i.e. Rs 40 lakh per season. Almost all pilgrims who prefer to walk on foot, purchase walking sticks made of local wood called poplar.