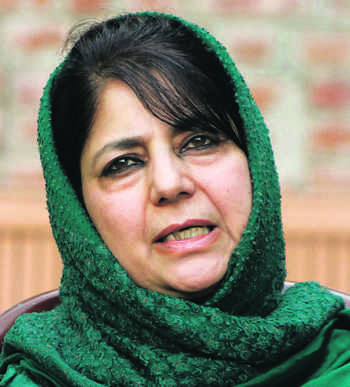 Ehsan Fazili & Majid Jahangir
Tribune News Service
Anantnag, April 23
Amid scepticism over the conduct of elections, an overall peaceful polling was marked by a low turnout of 13.63 per cent as compared to 40.21 per cent in 2014 in this district, part of the Anantnag parliamentary constituency.
The voting was held amid unprecedented security, as dozens of bulletproof vehicles patrolled sensitive areas.
J&K Chief Electoral Officer Shailendra Kumar said 13.63 per cent polling was recorded in the district, having an electorate of 5.27 lakh. The polling went off peacefully, but there were reports of hurling of stones at security forces towards the end of polling, held from 7 am to 4 pm.
The polling in all the segments — Anantnag, Dooru, Kokernag, Shangus, Bijbehara and Pahalgam — started on a dull note and there was generally no enthusiasm visible, as in 2014.
PDP president and former CM Mehbooba Mufti is pitted against Ghulam Ahmed Mir of the Congress and Hassnain Masoodi of the National Conference (NC), besides candidates of five other parties and 10 Independents. Mehbooba had won the Anantnag Lok Sabha seat in 2014 by 65,417 votes by defeating the NC candidate.
The seat had remained vacant for the past three years as no elections could be held due to the volatile security situation in South Kashmir.
In view of security concerns, election to the Anantnag parliamentary constituency, comprising Anantnag, Pulwama, Kulgam and Shopian districts of volatile South Kashmir, is being held in three phases. It began with Anantnag today and would be followed by Kulgam district in Phase 4 and Puwlama and Shopian districts in Phase 5.
Just 2% turnout in mufti's hometown
Jammu: Bijbehra, the native town of Mehbooba Mufti, delivered a stunning message with just 2 per cent voter turnout in the first phase, indicating trouble for her. From the heydays of sweeping all three Lok Sabha seats of Kashmir in 2014, PDP may be staring at zero, going by poll trends.