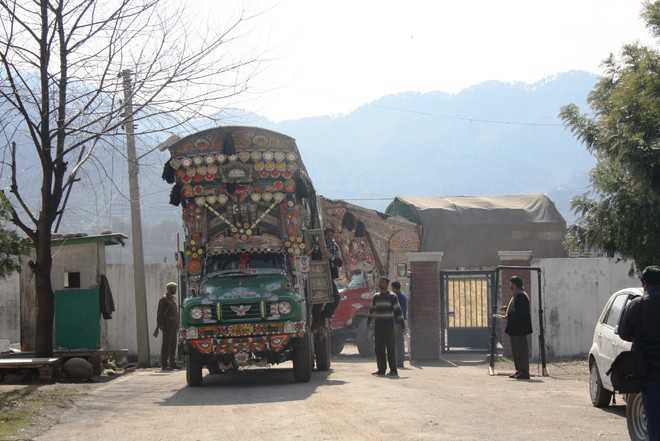 Tribune News Service
Jammu, April 19
The Centre's decision to suspend cross-LoC trade in J&K will directly hit over 600 registered businessmen in the state. Besides, trading of 21 commodities like mangoes, red chillis, herbs and dry fruits will get affected after its indefinite suspension from Friday.
There are 609 registered traders for two trade facilitation centres (TFCs) located at Salamabad, Uri, in Kashmir's Baramulla district and Chakan da Bagh of Poonch district. Of them, 229 traders are registered for Salamabad and 380 for Chakan da Bagh.
The trade, which is based on barter system and zero-duty basis, worth about Rs 7,000 crore, is being conducted between the two sides since 2008.
"All 609 registered businessmen will be directly affected with the indefinite suspension of trade. The government has framed no policy while no meeting of traders from the two sides has taken place since March 2016, which has led to the present situation. Had the government initiated some policy measures, the situation could have been avoided," said Pawan Anand, president, Cross-LoC Traders' Union, Chakan da Bagh.
Sources, however, claimed there were around 280 "active traders" of the 609 registered ones, who were actually involved in conducting the business.
The 21 items listed for the cross-LoC trade include bananas, embroidery items, tamarind, red chilli and cumin for exports while imports mainly include almonds, dry dates, dry fruits, herbs, mangoes and pistachio.
On Thursday, India, while toughening its stand, indefinitely suspended cross-LoC trade following reports that it was being "misused" by elements across the border to smuggle weapons, narcotics and fake currency.
The Home Ministry said a stricter regulatory and enforcement mechanism was being worked out and would be put in place in consultation with various agencies before the resumption of trade.
In December 2016, the National Investigating Agency had raided two TFCs and reportedly seized records pertaining to cross-LoC trade after finding many objectionable points.
Rs 7,000-cr industry
There are 609 registered traders for two trade facilitation centres located at Salamabad, Uri, in Kashmir's Baramulla district and Chakan da Bagh in Poonch district. Of them, 229 traders are registered for Salamabad and 380 for Chakan da Bagh
The trade, which is based on barter system and zero-duty basis, worth about Rs 7,000 crore, is being conducted between the two sides since 2008
Sources, however, claimed there were around 280 "active traders" of the 609 registered ones, who were actually involved in conducting the business