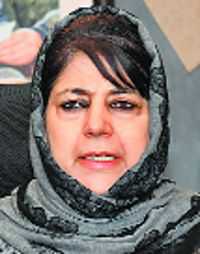 M Aamir Khan
Tribune News Service
Srinagar, April 19
The trade along the Line of Control was in dire straits, but its suspension by the Ministry of Home Affairs has further compounded the woes of the traders.
The traders, who were looking forward to recovering their pending amounts, say the decision was taken in a hurry and without consulting them. They are now planning to approach the Home Ministry to suggest measures to make the trade 'foolproof' and also find ways to recover their losses.
"The trade is done through the barter system and there was tension on the border...then the trade was suspended (due to repair work on Peace Bridge at Kaman Post). We were waiting for things to settle down so that we could clear the previous liabilities and liquidate the amount as goods worth crores were exported. Unfortunately, the decision to suspend the trade was taken in a hurry and without consulting us, the real stakeholders. No grace period was given to us," said Hilal Turkie, president, Salamabad Cross LoC Traders Union.
The cross-LoC trade was launched with much fanfare in October 2008 with a hope that it would act as a major confidence-building measure between India and Pakistan.
The cross-LoC traders had been complaining over a whole lot of other issues, especially lack of infrastructure and restrictions on items which could be traded.
Turkie said: "We welcome steps to make the trade foolproof. In fact, we have been suggesting measures to fix the loopholes. We are planning to raise the matter with the Governor and the MHA and suggest measures in this regard," he said.
He said the work was underway on the Rs 90-crore project to install the truck scanners that would have checked illegal activities. He said the decision to suspend the trade had taken them by surprise.
Besides Salamabad in Baramulla district of the Valley, the LoC trade is also done through Chakan da Bagh in Jammu region's Poonch district.
---
}Whatever (Atal Bihari) Vajpayee ji has done, it seems Modi wants to demolish all that. All the policies of Vajpayee ji like dialogue with Pakistan, dialogue within J&K, opening roads, cross-LoC trade and the related CBMs are being reversed. It seems the NDA government is hell-bent to demolish all those CBMs. —Mehbooba Mufti, PDP President
}The Modi govt buries another of the Vajpayee-era CBMs. Cross-LoC trade was a legacy of the Vajpayee govt to facilitate greater people-to-people contact across the Line of Control in J&K. The governemnt has taken a regressive and highly unfortunate step. Instead of saving the CBMs, they've decided to abandon it. —Omar Abdullah, NC Vice-President