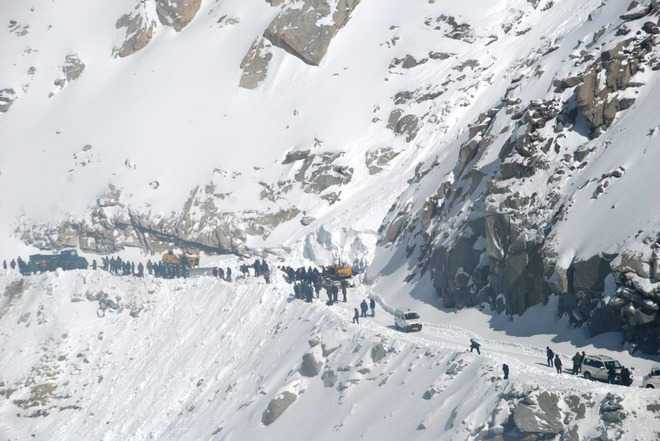 Arteev Sharma
Tribune News Service
Jammu, April 19
As the snow-bound Ladakh region, the country's geographically largest parliamentary seat, braces for the Lok Sabha polls, the election authorities are trying to ensure that no voter is left behind.
The election authorities are airlifting the polling staff and security personnel to the booths even with 7 to 12 voters.
The Ladakh seat, with is sparsely populated, has a total geographical area of 60,000 lakh sq km and holds strategic importance because it shares borders with China and Pakistan. There are a total of 1,56,888 voters in Ladakh, including 85,763 in Kargil and 71,125 in Leh. The Ladakh seat is going to the polls on May 6.
"There are at least 17 polling stations in remote areas of Leh district, where the polling staff and security personnel along with election material will be airlifted as there is no surface connectivity to the areas. The Gaik polling station in the Changthang area has the lowest number of seven voters, while there are at least 50 polling stations which have either 40 or less voters," Abdul Gaffar Zargar, Deputy District Election Officer (DDEO), Leh, told The Tribune over the phone.
Zargar said there were at least 10 polling stations close to the Line of Actual Control bordering China and most of them were hypersensitive.
Kargil DDEO Nargis Banoo said the Thyma polling station in the remote Zanskar subdivision had only 12 voters.
"There are at least 48 polling stations in the Zanskar subdivision where a sufficient number of suitable air sorties are required for lifting the EVMs and election material from Kargil to Padum at least seven days before the elections. The helicopters will be required for airlifting the polling staff and security personnel (four polling personnel and two security personnel) for the elections," Banoo said, adding "the polling parties will leave the district headquarters three days in advance so that they reach their destinations in time."
Official sources said some polling stations had been set up at an altitude of 15,000 feet. "In some areas, the polling parties will have to trek through snow for hours together to reach the polling booths," a source said.
"Given the tough geographical terrain, the health of polling staff will be a matter of concern for us. If the weather remains fair, we are hopeful of the smooth conduct of the elections," the source said. "The polling staff will be airlifted to inaccessible parts of Zanskar. The staff will then have to trek for four or five hours to reach the polling booths," the source said.
Seat has witnessed close contests
Ladakh holds the distinction of witnessing close contests in the Lok Sabha elections. In the 2014 parliamentary elections, BJP candidate Thupstan Chhewang had won by only 36 votes. In 2009, Hassan Khan had defeated Congress candidate Phuntsog Namgyal by 3,708 votes.