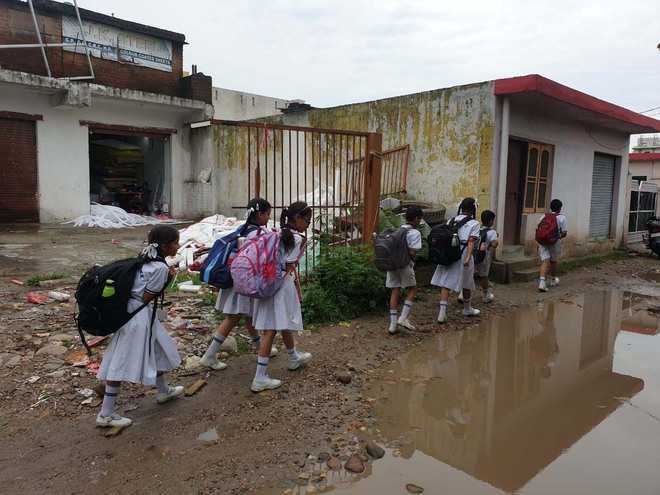 Tribune News Service
Jammu, September 19
A vital road connecting a residential colony and a private school in the Tawi Vihar areas of Sidhra with the main highway is in bad shape for seven years, exposing the lackadaisical approach of the Roads and Building (R&B) Department.
Repeated pleas by locals and promises made by the R&B Department to blacktop the road have proved futile. With potholes at several spots, it is difficult to commute on the road.
Problems aggravate for students of a leading city school, as they have to pass through potholed the road. Residents remain fearful of diseases as rainwater stagnates in the potholes, making them a perfect breeding ground for mosquitoes.
"There is a dispute with some locals who claim their land has been included in the road. The R&B Department has decided to compensate them, but there has been no progress. The entire locality is suffering," said Manish Kumar, a local resident. The residents say the department should take immediate decision or they would be forced to launch an agitation.
"Look at the condition of this road. This is totally unacceptable that the administration is not blacktopping it. We are fed up with the approach of the R&B Department," said Mohamamd Aslam, another resident.
None of the officials from the department was available for comment.
Top Stories