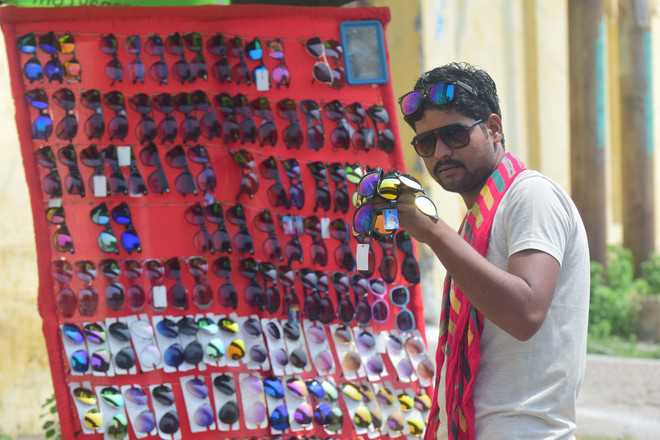 Vikram Sharma
Tribune News Service
Jammu, September 19
Low-quality sunshades and glasses adversely contribute to various vision defects and infections among people who use them. According to doctors, these poor-quality sunglasses are the primary reason behind several eye infections and refractive errors.
Most of the people buying sunglasses or goggles tend to look at the low price and ignore the quality of sunglasses which leads to complications later.
The lenses are generally made of glass or fibre. In substandard sunglasses, the lens is of poor quality which increases colour distortion.
In Jammu markets, one can see many intra-state workers having switched to selling fake and substandard sunglasses which are purchased by commoners.
Speaking to The Tribune, Dr JP Singh of KD Eye Hospital said many eye diseases were diagnosed to have arisen due to substandard sunglasses which led to early detection of myopia and hypermetropia in youngsters. "Eye irritation, tears, visual distortion, headache and blurred vision are common symptoms in this regard. The sunglasses in the market are made up of plastic lens of different refractive indices and are non-uniform in colour. These are mostly made of substandard material," the doctor said.
He said pupils of the eye constrict to control sunlight entering in it because of the harmful long-wave ultraviolet A and short wave ultraviolet B rays contained in sunlight for which people wear sunglasses. "Good-quality sunglasses should be used to prevent eye damage and an ophthalmologist should be consulted for the purpose," he said, adding that many cases of early detection of cataract in people was also due to use of substandard glasses.
Though there can be no administrative control over selling such cheap sunglasses and goggles by vendors, people say the government should come up with some directions in consultation with ophthalmologists.