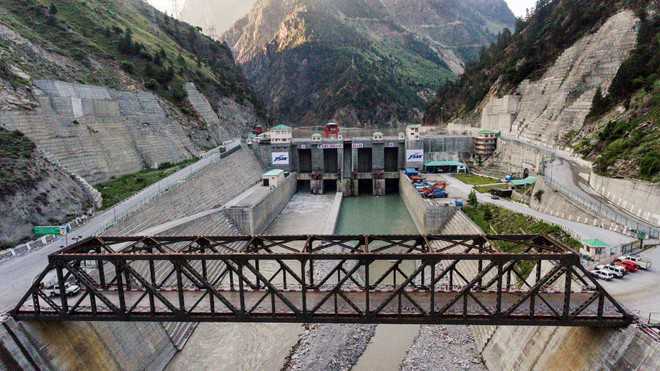 Ravi S. Singh
Tribune News Service
New Delhi, March 11
Encouraged by the Union government, public sector power company NHPC Limited has turned its focus to northern states, especially Jammu & Kashmir and Himachal Pradesh, to help push their rural growth.
Acknowledged as India's premier hydropower company, NHPC has gone in an overdrive to construct Kiru Hydro Electric project in J&K immediately after Cabinet Committee on Economic Affairs, chaired by Prime Minister Narendra Modi, approved the investment sanction for it last Thursday.
After he laid the foundation of the project on February 2019, the prime minister is understood to have conveyed the projects' urgency to the departments concerned.
Kiru project is envisaged as a "Run of River (RoR) scheme", designed complying with the requirements of Indus Waters Treaty 1960, with an installed capacity 624 MW. It would generate more than 2272 MU in a 90 per cent dependable year.
Besides, the NHPC has ushered in process for execution of 850-MW Ratle Hydroelectric project in the state, to be executed through a joint venture for which NHPC, Jammu and Kashmir State Power Development Department (JKPDD) and Jammu and Kashmir State Power Development Corporation (JKSPDC) have signed an MoU.
"Works will start shortly, and the time-line for completion of the big ticket project scheduled to be completed in four-and-half year years," said NHPC Chairman and MD (CMD) Balraj Joshi regarding the Kiru project, and added it would provide much-needed power in northern grid to help rural areas of the state.
"Spate of violence will have no effect on Kiru and other NTPC projects in the Jammu and Kashmir," Joshi added amid general apprehensions on continuing troubles in the state.
The Kiru project (624 MW) will be constructed by M/S Chenab Valley Power Projects Private Limited—a joint venture company that NHPC, JKSPDC and PTC have established. Shareholding for the company stands at 49 per cent each for both NHPC and JKSPDC, and 2 per cent for PTC.
Its estimated cost is more than Rs 4,287 crore (at the price levels of July 2018), which includes Interest During Construction (IDC) and Foreign Component (FC) of about Rs 426 crore. NHPC will infuse equity more than Rs 630 core in the joint venture firm.
Located on river Chenab in Kishtwar district of Jammu and Kashmir, the project envisages construction of a 134 m high concrete gravity Dam above deepest foundation level. A notable feature of the project is that the state government has exempted it from toll tax and the State Goods and Service Tax (SGST).
Jammu and Kashmir will has the first right of purchase of power generated in the state. Also, the concerned state housing such projects get is entitled to 12 per cent of power generated free of cost.
NHPC is exploring the feasibility of setting a power project of capacity 449 MW at Duggal on river Chenab in Himachal Pradesh and will soon make appointment against a Chair Professorship at IIT Roorkiee (Uttarakhand) for the project. It has an MoU with the IIT for the project and a separate on for research and development.
\
Top News
The Khalistan sympathiser had failed to take control of the ...
Hosts India matched their best-ever performance with 4 gold ...
Martyr PM's son who walked for national unity can never insu...
Warning systems alerted the pilots whose timely action preve...
Nat Sciver-Brunt smashed an unbeaten 55-ball 60, while skipp...