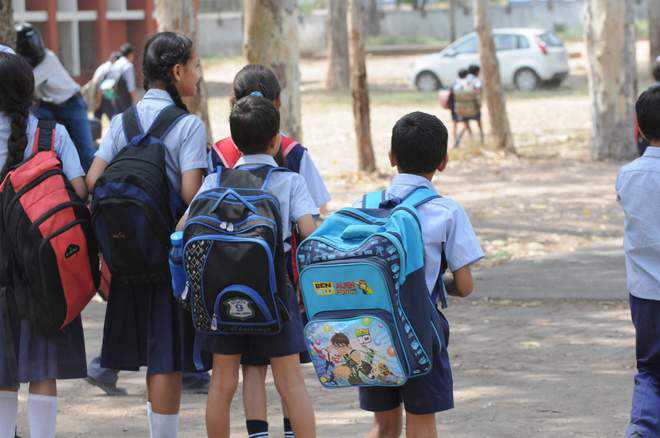 Tribune News Service
Srinagar, October 20
While schools and other educational institutions are closed in the Kashmir region post the abrogation of the state's special status, the Education Department has received an advisory about limiting the weight of schoolbags.
The advisory has been issued by Chairperson of J&K State Commission for Protection of Women and Child Rights (JKSCWCR) Vasundhara Pathak Masoodi for "ensuring the safety, security, health and hygiene of students on school premises and during to and fro travel".
As per the advisory, the weight limit of the schoolbag for Class I and II students has been fixed at 1.5 kg, 2 to 3 kg for Class III to V students, 4kg for Classes VI and VII students, 4.5 kg for Class VIII and IX and 5 kg for Class X students.
While laying thrust on capping the weight of schoolbags and also on health and hygiene, the advisory has further recommended that the recognition of such schools should be revoked that are found to be violating the prescribed norms/limits of schoolbag weight.
"Students should not be asked to carry extra material or additional books to school for whatsoever purpose," the advisory states, adding that every school and educational institution should have a health clinic, with provision for medics, paramedics, first-aid, medicines, basic medical equipment, sanitary napkins, purified drinking water, fire extinguishers, parking space, CCTVs, safe heating arrangement and other facilities.
"No unauthorised person should be allowed to enter the school premises and any movement of an unauthorised or a suspicious person should be reported without fail," the advisory said.
What the advisory says...
Students should not be asked to carry extra material or additional books to school for whatsoever purpose.
Every school and educational institute should have a health clinic, with provision for medics, paramedics, first-aid, medicines, basic medical equipment, sanitary napkins, purified drinking water, fire extinguishers, parking space, CCTVs, safe heating arrangement and other facilities.
No unauthorised person should be allowed to enter the school premises and any movement of an unauthorised or a suspicious person should be reported without fail