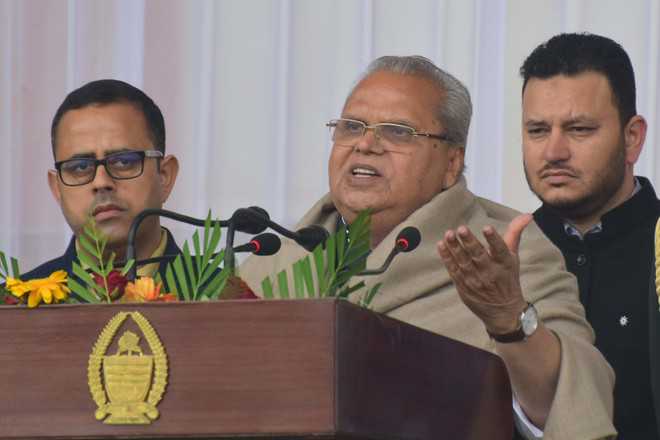 Tribune News Service
Jammu, January 14
Governor Satya Pal Malik on Monday said politicians were using "wrong term" for the Army's counter-insurgency operations in Kashmir, saying "There is nothing like Operation All-out (against militants) in Jammu and Kashmir".
"Politicians are using a wrong term. There is no term like 'Operation All-out' in J&K. When terrorists open fire or throw grenades (on security forces), this is not possible that we will reciprocate them with bouquets of flowers," Malik told reporters after inaugurating an open air gymnasium and musical fountain at Rajinder Singh Park here. The park is maintained by J&K Bank.
Malik was reacting to the recent statement of National Conference president Farooq Abdullah who had said his party would not support the Army's 'Operation All-out' against the militants in Kashmir if voted to power.
"We want these youth (referring to local militants) should return (to the mainstream) and we are ready to do whatever we can do. They should shut the path of violence and gun. They must understand that the path of violence will achieve them nothing," he said.
Asked about the NC chief's demand for constitution of a "truth and reconciliation commission" for a thorough probe into civilian killings in Kashmir, the Governor said it was not appropriate for him to comment on his (Farooq's) statement.
"He makes a new statement every day and changes it next day. He is a senior leader and I respect him. It would not be appropriate for me to comment on his remarks," Malik said.
To another query, Malik said political compulsions made Kashmir-based politicians "make pro-separatists and pro-militants" statements. "All of them are political people. They have certain political compulsions. In this country, the people can do anything for the vote-bank politics," he added.
The Governor reiterated that they were ready for elections but the decision (in this regard) would be taken by the Election Commission of India.
---
'Shun path of violence'
We want the youth (referring to local militants) should return to the mainstream and we are ready to do whatever we can do. They should shut the path of violence and gun. They must understand that the path of violence will achieve them nothing. —Satya Pal Malik, Governor