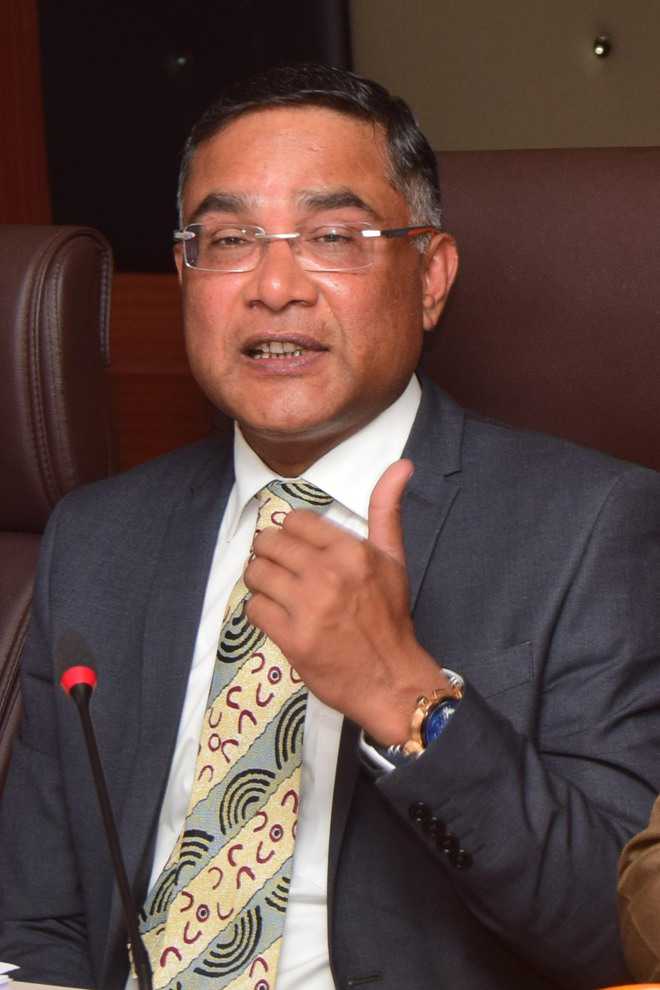 Amit Khajuria
Tribune News Service
Jammu, May 22
Chief Electoral Officer (CEO), J&K, Shailendra Kumar on Wednesday said there was no question of tampering with the electronic voting machines (EVMs) as the system was foolproof.
In an exclusive interview to The Tribune, Kumar expressed satisfaction over the peaceful conduct of the election process in the state.
He said: "What I feel is that after many years, this is the first election when not a single person died. It remained very peaceful, people largely participated except in a few Assembly constituencies."
Speaking about the security of the EVMs, he said the strongrooms, where the machines had been kept, were well-guarded and equipped with CCTVs.
"Every strongroom was sealed after getting the signatures of the candidates and observers. Each candidate has been allowed to depute one person on rotation in the strongroom. Then where is the chance of any EVM coming out of the strongroom?" asked Kumar.
"Every party has been allowed to depute its agents at the polling stations. They have recorded their EVM unit number, ballot numbers and VVPAT numbers. When the EVM was deployed at the polling station, the same numbers were noted by the observers and DCs, the same EVM and VVPAT went back to the strongrooms. Now, the same machines will come out from the strongroom to the counting centres under a multi-layer security system. So there is no chance of any kind of tampering with it," he added.
The CEO said no one had come to him with any complaint in the state till now. He further said foolproof security arrangements had been made at all counting centres of the state for a smooth and peaceful process on Thursday.
"A multi-layer security has been deployed with the help of the Central Armed Police Forces, Jammu and KashmirPolice and the security wing of the state. Only limited designated vehicles will be allowed at the counting centres. Class IV porters have been arranged to transport the EVMs to counting centres," the CEO said, adding, "Representatives of political parties and candidates will be there at the time of opening of the strongrooms."
He expressed satisfaction over the peaceful election process in the state.
"There was no law and order situation in many polling stations," he said.
On the polling in the Anantnag parliamentary constituency in south Kashmir, the Chief Electoral Officer said: "Conducting the election in many parts of the country is always a challenging task. In a constituency in south Kashmir, we handled the process uniquely and it went off well."