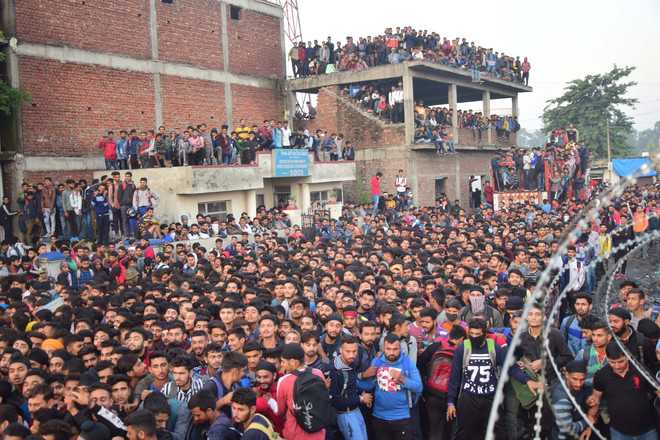 Our Correspondent
Jammu, October 21
Over 3,000 youths from Jammu turned up for 32 posts in the Territorial Army's recruitment rally in the Bari Bramnah area of Jammu on Monday.
Amid complaints of large-scale unemployment in Jammu and Kashmir, the candidates expressed their gratitude to the Army for carrying out the recruitment rally to provide them some sought of livelihood.
The Army's 157 Infantry Battalion (Territorial Army) (Home and Hearth) (Sikh) has been organising recruitment rally between October 21 and 25 at Bari-Bramnah, Jammu.
On the day one, candidates from RS Pura, Akhnoor, Bishnah and Nagrota tehsils of Jammu district took part in the recruitment rally, whereas candidates from Bari Brahmana, Vijaypur and Ramgarh tehsils of Samba and Teryath, Paoni and Reasi will participate in days to come. There are 32 posts of Soldier (General Duty) and two of Housekeeper.
"We have been witnessing a huge rush of youth willing to join the Army. This is an open recruitment rally for the areas specified in the notification. The candidates will undergo physical fitness tests, medical examination and other procedures during the recruitment rally," an officer said.
Top Stories