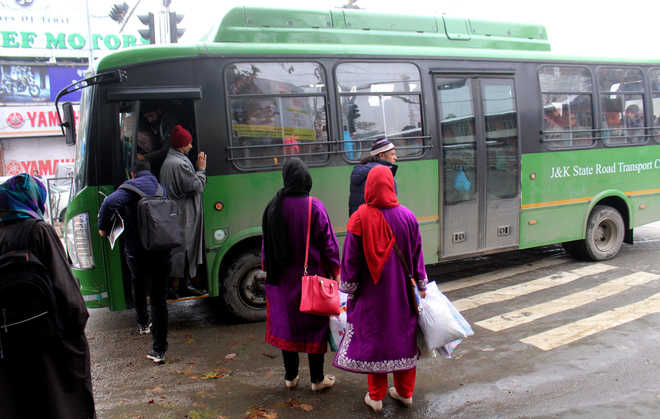 Tribune News Service
Srinagar, November 14
Residents of Srinagar heaved a sigh of relief as public transport is partly back in the city. Passenger buses and taxis had gone off roads on August 5 when the Centre abrogated Article 370 and put the Valley under a lockdown.
With the absence of private passenger buses, autorickshaws were the only option left with people to commute for over three months. Residents said buses and taxis were affordable as compared to autorickshaws, which had been charging as per their will since the unrest in August.
As private passenger buses plied in the city today, many roads witnessed traffic jams. The buses also saw a rush, leading to a dip in the business of autorickshaws.
"I have spent around Rs17,000 on autorickshaws in the past three months. The decision to ply buses is such a relief," said a Srinagar resident.
Residents said the movement of buses after more than three months was a welcome step. They said they had been looking forward to the movement of private buses. "I used to travel in an autorickshaw everyday to my office and back home as there was no other option. I have been spending Rs400 every day for the past three months on autorickshaws," said an engineer from Buchpora in Srinagar.
A local said buses were the best mode of transportation, especially when the Valley was gearing up for another spell of snow. "The city got paralysed after the season's first snowfall last week. Without transport, we were confined to our homes," said another resident. He said taking out cars in snow was difficult as the roads became slippery. "We can now travel in buses during snow and not worry about getting stuck."
Though the government had started the State Road Transport Corporation buses on a few routes in the city to ease the travel woes of people, they failed to compensate adequately for the lack of private public transport.
The owners of the private passenger buses have had to suffer huge losses as they have been without business since August 5, when the Valley was put under a lockdown by the Central government following the division of the state into two union territories.
Top Stories