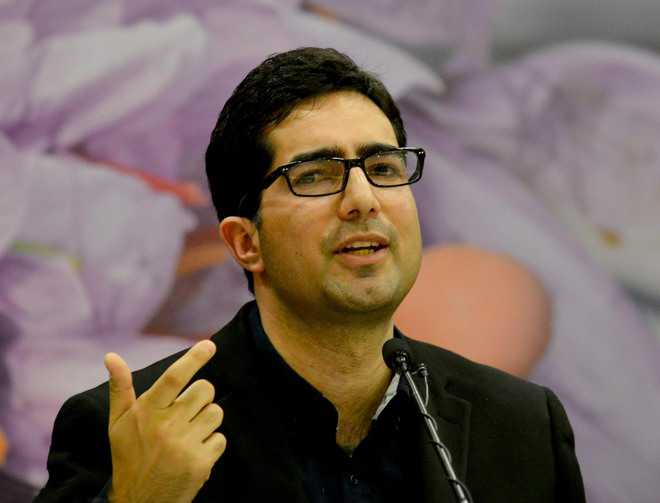 M Aamir Khan
Tribune News Service
Srinagar, May 19
Ahead of the Lok Sabha poll results, bureaucrat-turned-politician Shah Faesal said people in Kashmir valley were looking forward to a "window of change" with a hope that the new government would take steps to address the Kashmir issue. Though critical of the policies of the BJP vis-à-vis Kashmir, Faesal said he could only hope that they learn from their past mistakes.
"Kashmiris are looking forward to a window of change. Last five years have been extremely distressing times for Kashmiris because the BJP had many scary things in its manifesto like the abolition of Article 370, abolition of 35A.....Kashmiris are hopeful that the new government will deliver a change," Faesal said while talking to The Tribune.
The 2010-batch IAS topper had launched a new party Jammu and Kashmir Peoples Movement (JKPM) on March 23 and is presently building party base across the state through rallies and functions.
When asked what he thought was in store for the J&K state if the BJP came back to power and if there were better chances of "peace talks" in Narendra Modi's second term as the Prime Minister, as envisioned by his Pakistani counterpart Imran Khan, who happens to be Faesal's role model, the JKPM president said: "Life survives on hope. While looking at the (BJP) manifesto, it is scary....but, at the same time we hope that if the BJP comes back to power, they will realise their mistakes they have done in the past.....they will understand the deterioration of the situation (in last five years) and their wrong policies. We are hopeful that they take lessons from the past....the new BJP government, if it ever comes back....they will learn from it (past mistakes) and change the course of policies vis-a-vis Kashmir."
And while the JKPM had decided to stay away from the parliamentary polls to prepare ground for the assembly elections, Faesal said the low turnout in the elections in the Valley was a "demonstration of anger" by people.
"I think people made a statement — we won't be endorsing the electoral process because it has not yielded us anything in the past so many years. It was a demonstration of anger by people of Kashmir," he said.
Besides firebrand student leader Shehla Rashid, former Peoples Democratic Party (PDP) leader and minister Javed Mustafa Mir are among the known faces to have joined the JKPM so far.
Top Stories