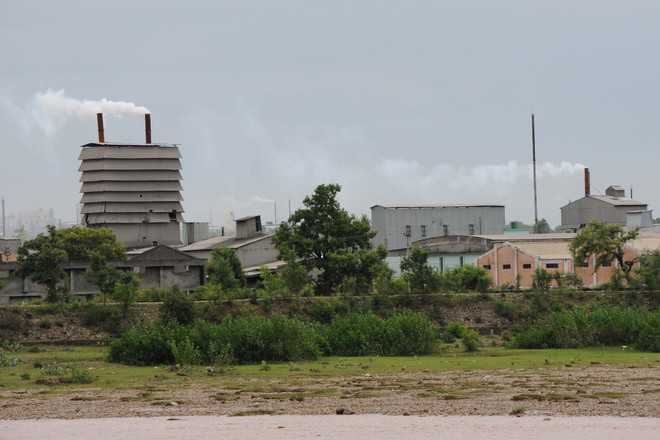 Arteev Sharma
Tribune News Service
Jammu, July 23
The State Pollution Control Board (SPCB) seems to be going soft on industries responsible for air and water pollution in Jammu.
Sources said the air pollution level was hitting dangerous levels because of the alleged nexus between SPCB officials and industrialists. The RSPM (respirable suspended particulate matter) level is higher than the permissible limit in industrial areas, particularly in Bari Brahmana and Samba.
At some places, the RSPM, one of the deadliest pollutants, is almost double the permissible limit.
The ambient air quality data of Jammu city and industrial areas show that there has been a constant increase in the air pollution level.
"It (RSPM) has been on quite a higher side in both industrial and residential areas. On June 19, the RSPM shot to 288 micrograms per cubic metre (mpcm) in the Bari Brahmana area — nearly double the permissible limit of 100 for residential areas and 150 for industrial areas. The suspended particulate matter was 394 mpcm against the standard limit of 200 mpcm. There has been a slight increase in both cases in recent weeks, which is a worrying sign," said a SCPB official on the condition of anonymity.
The RSPM refers to particulate matter with the diameter of less than or equal to 10 micrometres. It is produced from the combustion process, vehicles and industrial sources.
The SCBP has set up three stations — Narwal (residential), MAM Stadium (residential) and Bari Brahmana (industrial) — to check the air quality.
On June 20, the RSPM level in MAM Stadium was 294 mpcm while it was 272 mpcm in the Narwal area on June 21.
"No doubt, the vehicular population has exploded over the years but the industrial sector has become the major contributor to air pollution in recent times and this is all happening because of the SCPB's casual approach," said a senior district administration official.
According to the J&K State Industrial Development Corporation, there are around 500 industrial units, spread over 7,700 kanals in the Bari Brahmana area. The 'Red Category' industries include pharmaceutical and pesticide units which are the major source of water and air pollution.
"We follow the guidelines set up for the industries to keep a check on the air pollution level. Some industries have pollution control devices but do not operate them to the optimal level. Besides, some industrialists are indulging in malpractices in connivance with SCPB officials which is adding to air pollution in the area," a noted industrialist said.
Bari Brahmana resident Ajay Sharma said: "We are living in a high-risk area and we are forced to use face masks at home because of smog and hazy conditions in the area. The air quality has deteriorated to a dangerous level."
Deputy Commissioner, Samba, Sushma Chouhan, who recently took over, said she had decided to take up the issue with the SCPB. "I am working in this direction. Nobody will be allowed to violate the law," she said.