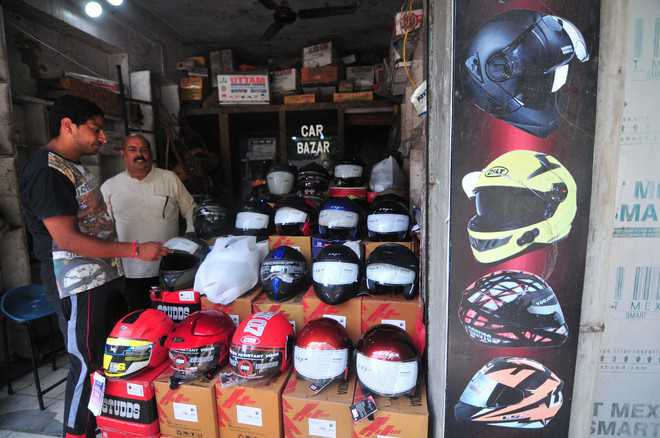 Tribune News Service
Jammu, September 17
Implementation of the New Motor Vehicle Act in Jammu has suddenly raised the demand of crash helmet in the city by 50 per cent.
In fear of paying more as fine, people have started following traffic rules and those who do not have a good helmet, throng to buy a new one.
"We have noticed a drastic rise in the demand of crash helmets. We have ordered more stock in view of the rising demand for it," said Sunil Sharma, a shopkeeper in the Old City. There is wide range of crash helmets available in the market, which costs between Rs 200 and Rs 5,000, depending on the quality and brand of the product.
The dealer said a good helmet started from Rs 800 on wards as others might not be able to protect the rider in case of any accident.
However, most of the people are using low quality helmet, just to save themselves from the traffic police.
"I have sold about 85 helmets in past five days. Usually, we sell about 50-60 helmets in a week," said another shopkeeper in the Rehari area. The traffic police of Jammu and Kashmir had started an awareness drive in the state on September 1. However, it started fining violators from September 16.
Heavy rush has been witnessed at Insurance offices, PUC centres and helmet shops, since the start of the month. A considerable decrease in vehicles on road has also been noticed.