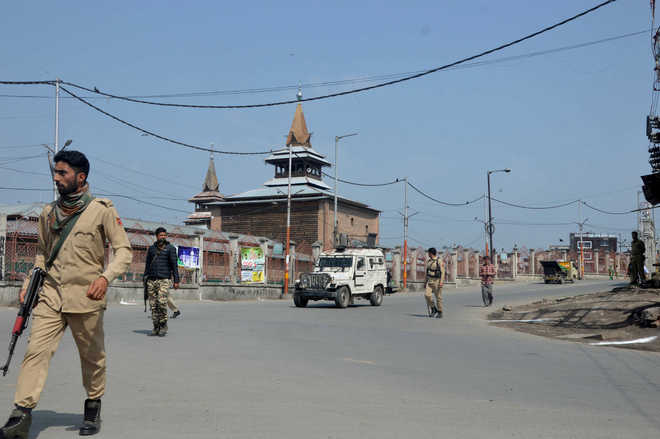 Azhar Qadri
Tribune News Service
Srinagar, July 6
The police on Friday detained two key separatist leaders and sealed off Jamia Masjid, the largest mosque in the region, as the administration as well as separatists are preparing for the second death anniversary of Hizbul Mujahideen commander Burhan Wani.
Separatist leaders Mirwaiz Umar Farooq and Yasin Malik were detained by the police while Mirwaiz claimed that "scores of youth" have also been detained and the houses of separatist activists have been raided.
Mirwaiz described it as a "crackdown" on separatist leadership.
While Mirwaiz was placed under arrest at his residence here, Malik was detained and taken into custody by the police. The police also sealed off Jamia Masjid and prevented the congregational prayers at the region's largest mosque "in view of the call for protests", a police official said.
Another separatist leader Syed Geelani is already under detention at his house.
The detention of separatists has come in the backdrop of the upcoming death anniversary of Burhan Wani, whose killing in a gunfight on July 8, 2016, had sparked a summer of violent protests which had continued for five months.
The separatists have called for a shutdown in the Kashmir valley on Sunday while the administration is "exploring all choices" to ensure that law and order situation remains under control.
A police official said there was a possibility that security forces would be deployed in strength across south Kashmir and traffic would be allowed in a "regulated, restricted manner". "The final decision, including on restrictions and Internet services, will be taken on Saturday evening," the official said.
On Burhan's first death anniversary last year, the administration had imposed restrictions on travel to Tral, the hometown of the slain militant, and also suspended mobile Internet services across the Valley.
In recent days, separatist leaders, as well as militant groups, have paid tributes to Burhan and in the latest statement, Shabir Shah's JKDFP described the slain militant as "the founder of new age resistance".
Top News
Both Houses adjourned for the day amid uproar over Adani iss...
Adani Group company stocks have lost over US$ 90 billion in ...
Total losses in stocks of 7 listed Adani group companies hit...
DGP said Arif was being handled by a Pak-based LeT terrorist...
Idol of Lord Ram's 'baalroop' carved out of these stones wil...