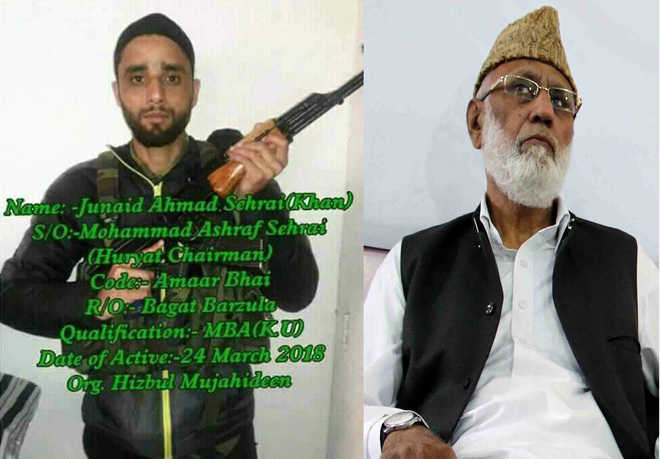 Majid Jahangir
Tribune News Service
Srinagar, March 25
After Tehreek-e-Hurriyat chief Mohammad Ashraf Sehrai's youngest son Junaid Ashraf Khan went missing, the separatist leader has "decided not to appeal to his son to come back."
Junaid had gone missing on Friday and his photograph appeared on social media holding an AK rifle, with a message claiming that he had joined militant group Hizbul Mujahideen. After the surfacing of the picture, Director General of Police Shesh Paul Vaid urged Sehrai to appeal to his son and other local militants to shun gun.
"Abba (Sehrai) told us he will not appeal to his son to come back," Junaid's brother-in-law, Younis Ahmad quoted Sehrai as having said. "Abba said he (Junaid) has made his choice and he himself (Sehrai) will continue his fight politically," Younis said.
The family, which had lodged a complaint with the Sadder police station, now said it would not pursue it.
"The only thing we know is that Junaid's picture with gun surfaced on the social media. We were also called by the police, but we have decided not to pursue the complaint filed with the police. We have stopped looking for him," Younis said.
Junaid's taking up arms is the first case of a son of a top-notch separatist leader turning to militancy.
Pertinently, Sehrai recently replaced Syed Ali Geelani as the head of the Tehreek-e-Hurriyat.
Originally hailing from the frontier Kupwara district, the Sehrai family migrated to Srinagar in the 1990s. "The Sehrai family was among the well-off and educated families of Kupwara. It had to migrate in the 1990s," another family member said.
Deputy Inspector General of Police, central Kashmir, Vidhi Kumar Birdi said the investigation in the case was going on. "We are still investigating whether Junaid has joined militancy or not," he said.