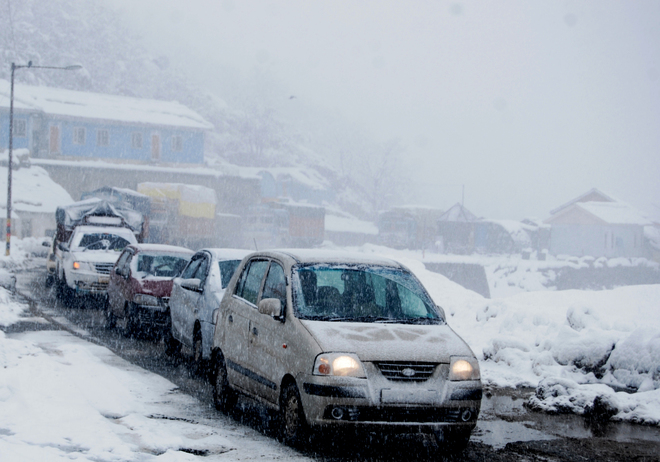 Tribune News Service
Srinagar, December 13
The Kashmir valley received a fresh spell of snow today while the cold wave tightened its grip ahead of 'Chillai Kalan' — the harshest 40-day winter period that begins December 21.
An official of the Meteorological Department said Srinagar city recorded 0.2 mm of rainfall/snowfall today. The city recorded a maximum temperature of 5.8°C and a minimum temperature of minus 0.8°C.
Qazigund, the gateway town to Kashmir, recorded 3.2 mm of snowfall during the day. The maximum and minimum temperature at Qazigund stood at 3.0°C and 0.8°C, respectively.
Pahalgam resort witnessed 1.2 mm of snowfall and recorded a low of minus 4.3°C. The maximum temperature at Pahalgam stood at 3.3°C.
The Gulmarg ski resort, which is the hub of winter sports and tourism activities in the winter, is already covered in a blanket of snow. Gulmarg recorded a minimum temperature of minus 9.2°C.
The Ladakh region is also in the grip of the cold. Leh recorded a minimum temperature of minus 12.1°C, which was the coldest of the season so far as per the Meteorological Department. The day temperature in Leh stood at 2.7°C.
Even as mostly cloudy and dry weather is likely to prevail in the plains, the MeT office has forecast light snow or rain at isolated places in the next 24 hours.