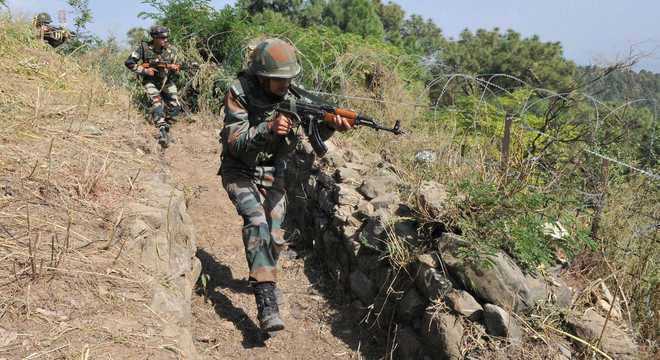 Our Correspondent
Jammu, July 22
An Army man was killed when Pakistani troops targeted forward posts along the Line of Control (LoC) in the Akhnoor sector on Monday.
An Army spokesperson said: "The Pakistan army resorted to unprovoked ceasefire violation on the Line of Control around 6.30 am and the firing continued intermittently for several hours. However, the Indian Army responded strongly and inflicted heavy damage on Pakistani posts and casualties to Pakistan soldiers."
Rifleman Arif Shafi Alam Khan Pathan was critically injured and was evacuated to Army Hospital, Udhampur, where he succumbed to his injuries.
Rifleman Pathan, a young soldier, belonged to Nawayard village in Vadodara district of Gujarat. He is survived by his parents, Shafi Alam Khan Pathan and mother Habiban Banu.
"Rifleman Pathan was a brave, highly motivated and sincere soldier. The nation will always remain indebted to him for the supreme sacrifice and devotion to duty," the Army spokesman said.
A senior police officer in the Khor subdivision of Akhnoor said: "The cross-border firing started around 6.30 am and continued intermittently for several hours, but no damage to locals and their property was reported."
As per police reports, one more soldier was injured in the firing. The heavy firing from across the border triggered panic among the villagers living along with line of control. On Saturday, Pakistani troops had targeted the Mendhar sector in Poonch district. The deputy of a village head in Balnoi village received bullet injuries.
Hailed from Gujarat
Rifleman Arif Shafi Alam Khan Pathan was critically injured in Pak firing. He was evacuated to Army Hospital, Udhampur, where he succumbed to his injuries
Rifleman Pathan belonged to Nawayard village in Vadodara district of Gujarat
A senior police officer said: "The cross-border firing started around 6.30 am and continued intermittently for several hours, but no damage to locals and their property was reported."