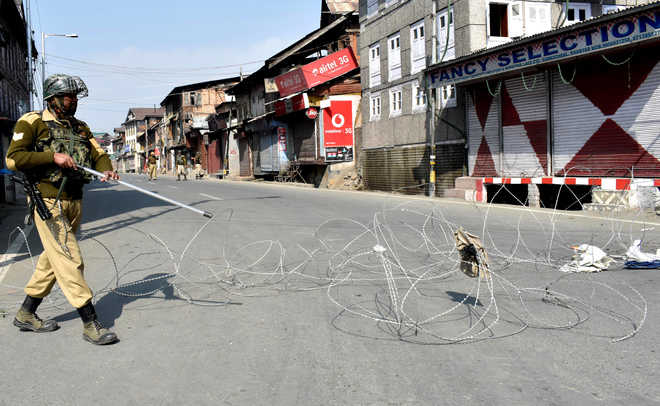 Majid Jahangir
Tribune News Service
Srinagar, November 12
The militancy-hit Jammu and Kashmir has earned the dubious distinction of witnessing the highest number of internet shutdowns in the country.
Under the standard operating procedures, the area-specific internet shutdowns in Kashmir are usually ordered by the authorities to avoid a law and order problem following encounters. Locals, however, consider these measures as an infringement of their rights.
A website internetshutdowns.in which keeps track of internet shutdowns across India, claims the internet services were shut down for a total 112 times in J&K from 2012 to 2018.
As per the website, internet services were banned three times in 2012, five times each in 2013, 2014 and 2015, 10 times in 2016, 32 in 2017 and so far 52 times this year. The website says the internet was suspended 121 times across India in 2018.
In May when Kashmir's top militant Saddam Padder and a fresh recruit, an assistant professor, were killed in a gunfight along with three other militants, intense clashes broke out in Shopian that led to the killing of six civilians. The situation turned volatile and the authorities snapped the mobile internet in most parts of the Valley fearing protests.
"The snapping of mobile internet always helps defuse the situation," a police officer said, adding that "even if there is slightest apprehension of law and order, they snap the mobile net locally."
The worst hit by cyber curfews this year has been south Kashmir's districts which have been the epicentre of the new-age militancy. In the last week of September, the authorities snapped the mobile internet for over a fortnight in the twin districts of Shopian and Pulwama as militants were threatening policemen through social media and asking them to resign. Security agencies believe a majority of the videos and threats were emanating from the two districts of south Kashmir which have the highest concentration of militants.
"We suffered immensely due to the internet shutdown," said a Shopian resident, Aijaz Ahmed.
Inspector General Police, Kashmir, Swayam Prakash Pani said they didn't believe in cyber policing, but the "measures are taken to safeguard life and property of the people and maintenance of law and order."
"The enemy country (Pakistan) is using cyberspace as a proxy platform. The intensity of misinformation can provoke and create disturbances. We have no option but to snap the internet in order to avert greater proliferation of misinformation campaign and propaganda, which can be dangerous for life and property. That is the only compelling reason why we go for it," Pani said
The J&K Government has nominated two IGs from the Kashmir and Jammu regions as nodal officers for ordering internet shutdowns. However, their request is subject to confirmation by the J&K home department.
A Senior Superintendent of Police said the police always gave feedback about the situation and the requirement for snapping the internet or reducing its speed.
However, the common man gets inconvenienced by the shutdown. "If the Kashmir situation was because of Facebook, WhatsApp or social media than New Delhi is misreading the crisis. They shut down the internet for many months after the killing of Burhan (Wani) but what did the government achieve by that measure," a Kashmir university student, Irfan Ahmed, said. "Blocking the internet will not solve any issue, but only aggravate things on the ground."