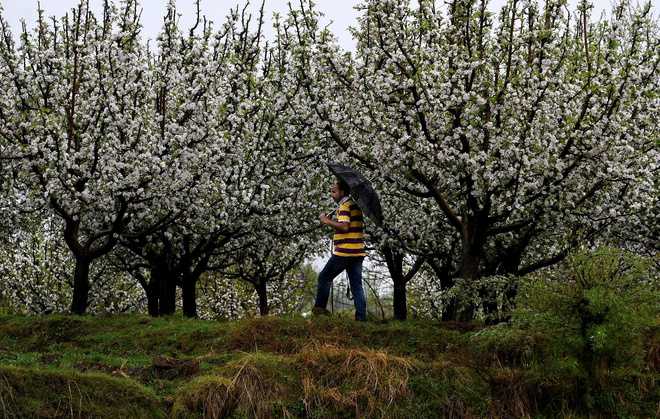 Tribune News Service
Srinagar, November 14
With the Kashmir horticulture sector battered by the recent unexpected and heavy snowfall, orchardists in north Kashmir have demanded adequate compensation to cover their losses.
The Kashmir apple industry, which was still reeling under the impact of the lockdown, received another jolt on Thursday when thousands of fruit-bearing trees were either uprooted or destroyed due to the snowfall. The maximum impact of this tragedy is being felt in north Kashmir where swathes of apple orchards have been damaged.
Though the government has promised relief to the growers, it has been found that in many areas, no survey has been undertaken by the Horticulture Department to assess the extent of the damage. At many places, it has been found that the revenue authorities are just jotting down the names of the orchard owners and underplaying the losses without paying visit to the orchards.
"Our patwari came and noted down the names of orchard owners. He did not visit the orchard," Ghulam Mohammad Khan, an orchard owner from the Nowpora area of Baramulla, said whose two orchards have been heavily damaged.
Likewise, there are many areas in north Kashmir, particularly in the Zainageer, Kandi and Ushkara belt, where the authorities are yet to undertake any survey to gauge the extent of the damage.
"It is a disaster. The orchards in our area have suffered over 80 per cent damage from snow. We were already reeling under losses suffered due to the shutdown and now this natural disaster," Mohammad Ashraf Lone, an orchard owner from Ushkara Baramulla, said. He requested the authorities to properly assess the damage to the orchards by undertaking physical surveys and, accordingly, pay relief to the farmers.
Another orchard owner Mohammad Akbar Lone, who hails from Magam Handwara in frontier Kupwara district, said he had suffered 80 per cent damage to his orchards. "I have never seen such a disaster. My orchards are gone and so is my livelihood." Abkar also urged the authorities concerned to carry out the field surveys in the Kupwara area so that the real damage was known and, accordingly, the growers were compensated.