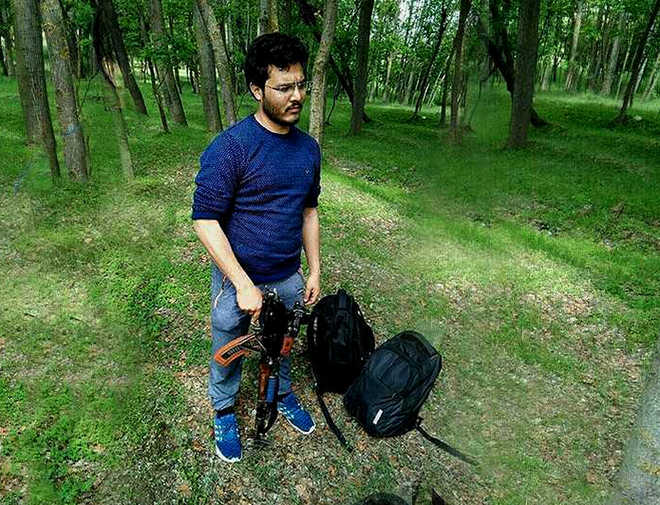 Azhar Qadri
Tribune News Service
Srinagar, August 4
The militant commander Abu Dujana who was killed in a gunfight on Wednesday was no longer associated with the Lashkar-e-Toiba but was affiliated to the Al-Qaida-linked group led by Zakir Musa, new evidence has revealed.
The affiliation between Dujana and the Musa-led Qaida group was confirmed by an audio call that surfaced on social media on Friday and became viral. In the audio call, Dujana and his local associate Arif Lelhari are heard talking to an unknown person and detailing their affiliation to the Musa-led Qaida group.
"We are affiliated to the Al-Qaida," Lelhari repeats thrice as the call ends.
The security agencies had been suspecting that Dujana was in contact and on cordial terms with Musa, whose description of fighting in Kashmir as an Islamist struggle has angered separatists and militant groups loyal to Pakistan. Musa has been recently named as the leader of the Qaeda-affiliated group named Ansar Ghazwat-ul-Hind.
The latest call is the most telling evidence that Dujana was no longer associated with Lashkar-e-Toiba and had joined ranks with Musa. The Lashkar has not issued any obituary for Dujana, a significant departure for the outfit that has been at the forefront of campaigning against Musa's Islamist call.
Dujana, who planned a series of attacks last year in which 17 security forces personnel, including two officers of the Army's Parachute Regiment, were killed, led the Lashkar for nearly two years. His defection to the Qaida's cause in Kashmir reveals the deep penetration of radical Islamist appeal within militant ranks.
The authenticity of the call is difficult to confirm immediately but the voice of at least one speaker matches with an earlier audio call of Dujana that was released by the Army in which he rejected the offer to surrender. Kashmir IGP Muneer Khan told The Tribune that
he was aware of the call but said the police were "unsure" about its authenticity.
The call begins with a speaker who introduces himself as Arif (Lelhari) and wills that he should be buried next to militant Majid Mir, who had also expressed support to Musa in a similar last call, and the Pakistani flag should not be waved at his funeral. "Only the flag of 'tawheed' should be waved at my funeral," he says, referring to the Islamist black flag that is increasingly replacing Pakistan's green flag at militant funerals.
The second speaker in the audio appears to be Dujana, who says that he is "thankful to Allah that he bestowed a martyr's death on him". "I want that, for God's sake, there should be no shutdown on our death," Dujana said.
---
Penetration of radicalism
The affiliation between Abu Dujana and the Zakir Musa-led Qaida group was confirmed by an audio call that surfaced on social media on Friday and instantly became viral
Dujana's defection to the Qaida's cause in Kashmir reveals the deep penetration of radical Islamist appeal within militant ranks