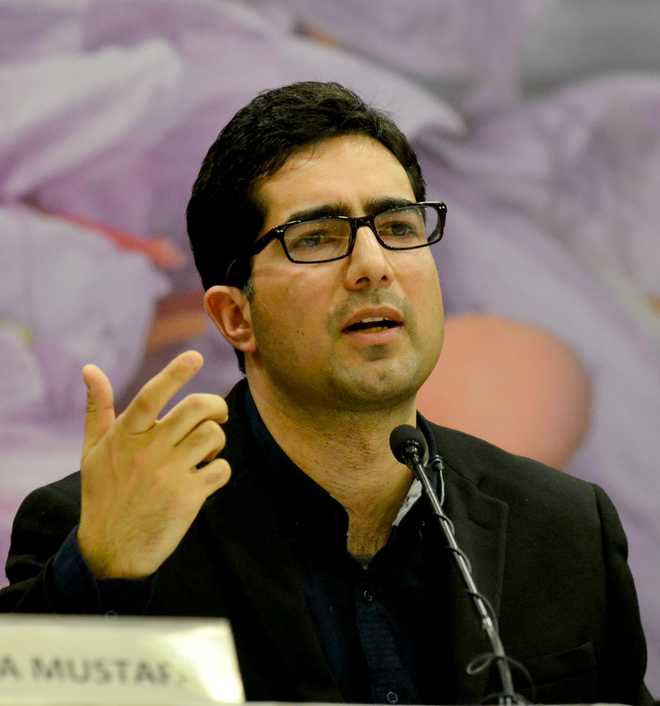 Ravi S Singh
Tribune News Service
New Delhi, February 15
Shah Faesal, a native of Kashmir, who had resigned from All India Administrative Service, said on Friday that there is trust deficit among the youth of Kashmir towards the Indian state, and pitched for dialogue with all stake-holders for lasting peace and normalcy in the state.
Delivering a lecture on the Kashmir-centric theme "Way Forward" organised by a think-tank "Centre for Policy Research", Faisal described the problem as "political" which had to be resolved accordingly.
"The youth of the state feel alienated and distrustful to the democratic process due to interference of the Centre," he said and referred to political developments of 1953 and 1987.
He termed the low turnout in the last panchayat election in the state on high-quotient of distrust of the populace towards the democratic process.
There are always provocations like threats to tamper with Article 370 and 35A which gives distinctive feature to the state's relationship with India, he said.
He cautioned not to treat the problem through the prism of law and order.
He pitched for talks at "multi-lateral" level, and not just with estranged youth.
Without naming countries, he said with three nuclear powers having vested interest in the border state of Jammu and Kasmir, it should not be treated as any other Indian state.
Attributing growing radicalisation to the prevailing conflict situation, he said, "It is consequence, not a cause".
He said the violence has to stop in the state, as both sides of the fence — security forces and locals — are bleeding.
Muscular and military approach of the NDA government has exacerbated the situation, he claimed.
The narrative about Kashmir pushed under the present dispensation is distorted, he said adding there is opposition in the state to a move to divide it into separate administrative units.
One of the ways forward to resolve the problem was to "humanise the discourse", and enlargement of democratic space, he suggested.